Duke and Duchess of Sussex share in tune moment at Field of Remembrance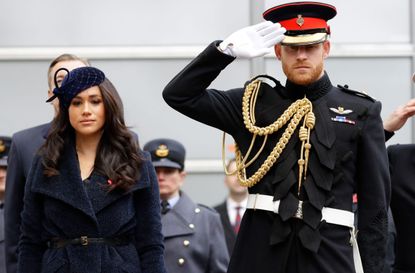 The Duke and Duchess of Sussex shared a sweet moment of connection during their attendance at Westminster Abbey's Field of Remembrance on Thursday.
The pair laid crosses on top of a poppy memorial before standing to attention at the ceremony yesterday.
Prince Harry and the Duchess were initially supposed to be joined by Camilla, Duchess of Cornwall, however she was unable to attend due to a chest infection, which Clarence House described as getting 'progressively worse' in a statement.
As the married couple stood beside one another at the engagement ahead of Sunday's Remembrance Day, Prince Harry was seen giving a subtle signal to Duchess Meghan to move closer.
Noticing his gesture Meghan can be seen shuffling towards her husband.
READ MORE: This is how you can get a replica of the Duchess of Sussex's stunning £2,000 outfit for less than £150 (opens in new tab)
This comes as body language expert Blanca Cobb has claimed that the Duke and Duchess were signalling that they are distancing themselves from the public at yesterday's event, following their recent confession that they are struggling with life in the media spotlight.
"They're pulling into themselves. They're still going to engage with the public, but they're doing so at a distance," Blanca told Cosmopolitan.
Analysing a photograph of the two of them from the day where Prince Harry can be seen turning back to Meghan behind him, Blanca added, "This picture shows a polite disconnect from the public.
"Meghan is looking down, but Harry is looking in Meghan's direction. Meghan is the only person who is truly behind Harry, so it's safe to say he is checking in on his wife."
Looking at another photo of Meghan and Harry standing to attention with their hands clasped together in front of them, Blanca continued, "This is a formal event, but instead of looking straight ahead, Meghan is choosing to glance down.
"This is a way of disengaging, but it's still very respectful toward the public. Meghan and Harry have similarities in their stances and how they're holding their hands, so that lets us know they're very emotionally connected to each other."