Prince Harry had the most adorable reaction after being called 'handsome' during royal engagement
We love this!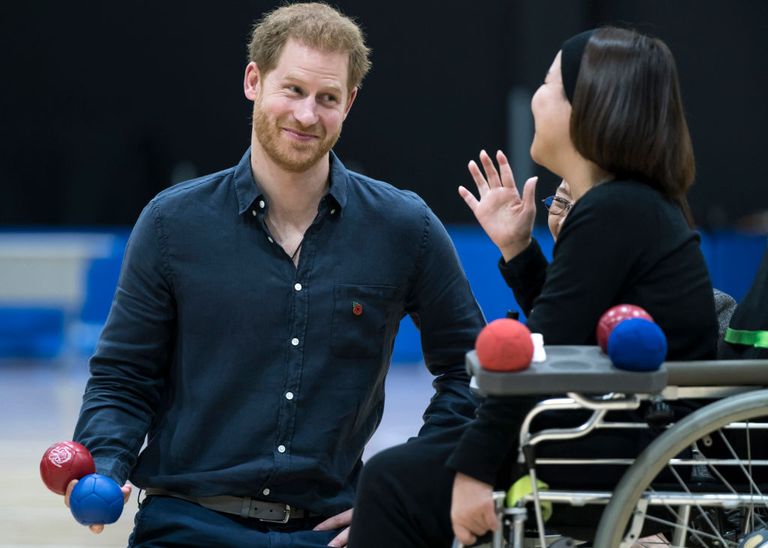 (Image credit: Getty Images)
The Duke of Sussex made a solo trip to Japan to attend the Rugby World Cup final between England and South Africa.
Before the big game, Prince Harry visited a group of local school children.
He had a brilliant response to one student who commented on how handsome he was.
Prince Harry's visit delighted local school children, who were seen laughing after his hilarious response to someone's compliment.
As the Duke posed for photographs with the students, one of them commented on his looks, and he replied by gesturing to his wedding ring and playfully saying, "I'm married!"
The fun clip was shared via the Royal Family Channel Twitter account, which posts frequent updates about events and royal engagements.
They wrote, 'The Duke of Sussex meets Paralympic hopefuls in Tokyo ahead of rugby final.
'He warmed up for the Rugby World Cup final at a training session for would be Japanese Paralympians and discovered that one or two of them were rooting for England's opponents.'
MORE: The Duke and Duchess of Sussex show off their dance moves during South Africa tour
Before the match, he was also seen speaking with Paralympic players and joked with them when he found out that a few were rooting for South Africa and not England.
Joking to one of the South Africa supporters, he said, "I'll have a word later, you might not be getting selected."
Prince Harry's Japan visit was met with praise from royal fans, with many commenting on his down to earth attitude.
One wrote, 'Prince Harry has lots of humility.. That's one of the things I admire about him. Well mannered as well.'
Another added, 'He's an absolute natural at this. Shuttering cameras aside he's the People's Prince.'
Despite England losing to South Africa, Prince Harry was gracious in defeat as he was seen hugging South African President Cyril Ramaphosa to congratulate him on the win.
In an official statement, he wrote, 'Tonight was not England's night, but the whole nation is incredibly proud of what @EnglandRugby have achieved over the past few months. Hold your heads high boys, you did an outstanding job and we couldn't have asked more from you.
'To the whole of South Africa - rugby unites all of us in more ways than we can imagine, and tonight I have no doubt that it will unite all of you.'