Prince Harry is a "better man" because of Meghan Markle and her "charisma"
It's been claimed that Meghan Markle has changed Prince Harry for the better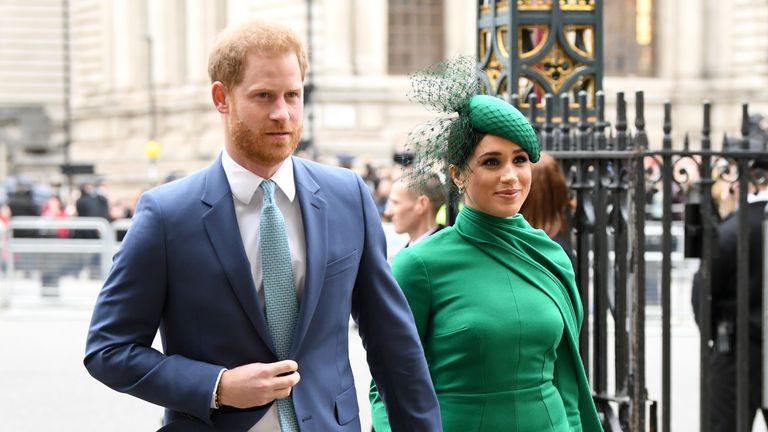 (Image credit: Photo by Karwai Tang/WireImage via Getty)
Prince Harry is a "better man" because of his relationship with wife Meghan Markle, Duchess of Sussex, according to a royal author. 
A royal author has suggested that whilst Prince Harry's military career turned him into a man, his relationship with Duchess Meghan has made him a "better" one. 
He claims that Duchess Meghan has a "great deal of charisma" that is now "missing" in the Royal Family. 
The Duke and Duchess of Sussex are thought to have first met each other back in 2016. Their relationship quickly went from strength to strength and the couple announced their engagement the next year. They went on to marry in a beautiful ceremony at St George's Chapel, Windsor Castle, in May 2018, delighting royal fans across the world. 
After deciding to step down as senior members of the Royal Family last year, they have been surrounded by rumors regarding their relationship and new life in America. However, a royal author has claimed that Meghan Markle has actually changed Prince Harry for the better. 
How has Meghan Markle changed Prince Harry?
As reported by Daily Star, Sean Smith, author of Meghan Misunderstood spoke to the publication about how whilst Prince Harry's time in the British Army was hugely significant, his "partnership with Meghan" went even further. 
More from Woman & Home:
Mr. Smith reportedly said: "Prince Harry is the man who served in two tours of duty in Afghanistan and it really was the making of him."
"His service career turned the boy into a man and his partnership with Meghan Markle has turned him into a better man."
The Duke of Sussex served in the British Army for ten years, rising to the rank of Captain and continues to work in support of his fellow servicemen and servicewomen to this day.
What does Meghan Markle bring to the Royal Family?
But whilst Duchess Meghan plays a hugely significant role in her husband Prince Harry's life, she might just have brought something to the wider Royal Family too. 
Speaking of exactly what Meghan, Duchess of Sussex has added to the Royal Family, Mr. Smith went on to claim: "Historians would have you believe the Royal Family are boring at times, but Meghan Markle is not a dull person, she has a great deal of charisma that is now sadly missing in the Royal Family."
"This is a woman of substance and that is not how she has been represented," Mr. Smith continued. "And hopefully there is still time for people to realize that."
"I don't want to knock members of the Royal Family, Prince William, Kate, and other members too, but Meghan has a different life experience than them," he added. 
"Meghan brought something that I think, is now missing."
It is understood that Prince Harry and Duchess Meghan are intending to return to the UK this year, travel restrictions permitting, and will reunite publicly with the Royal Family for the first time since their last royal engagement in 2020.
We can't wait to see the Royal Family together once more.