Prince Harry faces 'huge decision' as he 'risks being cut off from the Queen'
Prince Harry has a 'huge decision' to make over his tell-all memoir and his relationship with the Queen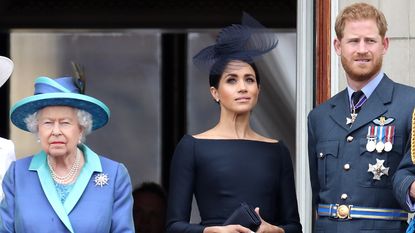 (Image credit: Getty)
Prince Harry is facing 'cut-offs' from the royal family and the Queen if he doesn't make a big decision about his tell-all memoir, a royal expert says.
Royal commentator Angela Levin has warned that Harry faces a huge decision over his tell-all memoir, explaining that he 'faces cut-offs'.
Harry previously said that his book will be 'accurate and wholly truthful'.
This follows royal news that Prince Harry is 'echoing' Princess Diana in his new biography.
---
Angela Levin said of Harry's highly anticipated book, "Harry has a huge decision to make. Re-do or drop his memoirs in the hope he can rebuild his relationship with his family.
"Something he badly needs to keep his commercial life going, if nothing else Or go ahead still attacking his 'trapped' family, be ready for cut offs."
While last month it was reported that Harry's memoir was 'signed off and ready for publication this Christmas', it's now been reported that the book could be delayed until next year while Harry debates over whether to include certain bombshells.
A source told Page Six, "I have heard that Harry has some truth bombs in his book that he is debating on whether to include or not. So this [push back is] no surprise if he needs more time to work on the book."
The report also claims that when the book does have a release date, it is likely Harry will embark on a promo tour that will include appearances on morning TV shows in the US.
Another source told the publication, "There is a commitment for a number of weeks and dates and what that entails. His team will be confirming obligations now for a pretty robust and comprehensive promo tour."
Meanwhile, an official description of the book by Penguin Random house reads, "Prince Harry will share, for the very first time, the definitive account of the experiences, adventures, losses, and life lessons that have helped shape him.
"Covering his lifetime in the public eye from childhood to the present day, including his dedication to service, the military duty that twice took him to the frontlines of Afghanistan, and the joy he has found in being a husband and father, Prince Harry will offer an honest and captivating personal portrait, one that shows readers that behind everything they think they know lies an inspiring, courageous and uplifting human story."
Robyn is a celebrity and entertainment journalist and editor with over eight years experience in the industry. As well as contributing regular to woman&home, she also often writes for Woman, Woman's Own, Woman's Weekly and The Sun.