Prince Harry reveals he feels a 'festering wound' left by his mother Princess Diana's death and explains how his life is a 'constant reminder' of her
He's admitted he doesn't feel at peace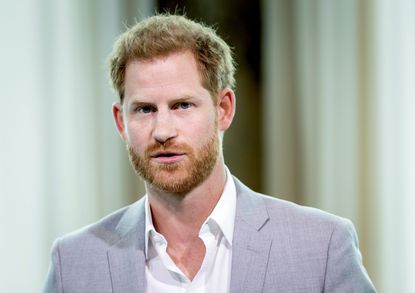 (Image credit: Getty)
The Duke of Sussex has confessed that the death of his mother, Princess Diana, still feels like a "festering wound" him in an honest on screen interview.
Prince Harry has opened up about his mother Princess Diana's death as part of an upcoming documentary about the Duke and Duchess of Sussex's recent tour of Africa.
He admitted that her death feels like a "festering wound" and that he is reminded of the negative parts of her life all the time.
The candid moment is part of the upcoming ITV documentary, An African Journey, which followed Prince Harry and his wife, the Duchess of Sussex, during their recent tour of South Africa.
The hour-long documentary, set to air on Sunday night, features interviews with the royal couple as well as an insight into their work, and how they're balancing public and private life.
Prince Harry opened up about the loss of his mother as he followed in her footsteps during work with the HALO Trust clearing land mines, explaining that his life in the spotlight is a constant reminder of the negative aspects of Princess Diana's life.
He said, "It's been quite emotional retracing my mother's steps, 22 years on. Let's finish what was started."
When asked by presenter Tom Bradby, "Do you feel at peace in a way yet? Or is it still a sort of wound that festers?" he simply responded with, "I think probably a wound that festers."
He continued, "I think being part of this family, in this role, in this job, every single time I see a camera, every single time I hear a click, every single time I see a flash it takes me straight back so in that respect it's the worst reminder of her life as opposed to the best.
"Being here now 22 years later trying to finish what she started will be incredibly emotional but everything that I do reminds me of her.
"But as I said with the role, with the job, and the sort of pressures that come with that I get reminded of the bad stuff, unfortunately."
Continuing to hail Africa as a place that has helped him get through the darkest of times, he said, "Ever since I came to this continent as a young boy, trying to cope with something I can never possibly describe, Africa has held me in an embrace that I will never forget, and I feel incredibly fortunate for that."