Royal fans praise Prince Charles and Duchess of Cornwall after public romantic gesture on her birthday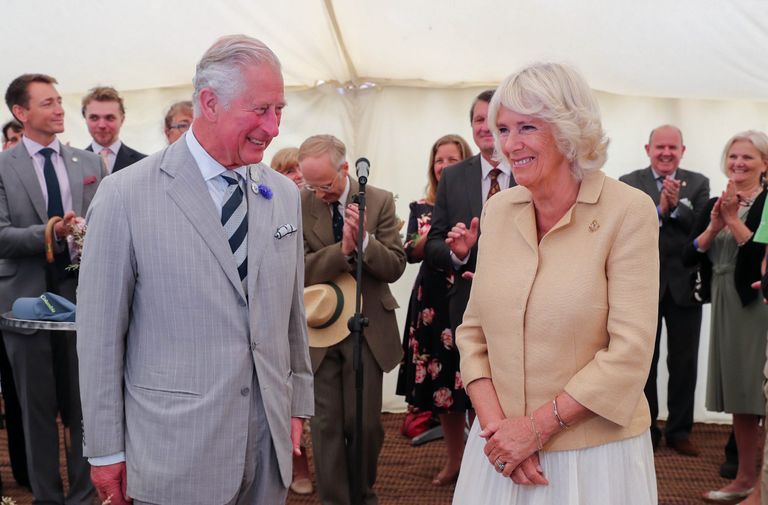 Prince Charles and the Duchess of Cornwall have been praised by royal fans after they spotted a very romantic gesture in sweet video.
The duo have been busy with official tour to Devon and Cornwall, and the Duchess' birthday turned out to be on the same day they celebrated the 70th anniversary of the National Parks and Access to the Countryside Act in Exmoor National Park.
But while the cake was specially commissioned to mark the special occasion for the park - reflecting the landscapes of the UK's National Parks – attendees still sang happy birthday to the Duchess.
The sweet moment was shared on their official Instagram account, alongside the caption: 'Three cheers for The Duchess of Cornwall to mark HRH's birthday during a Big Picnic event in Exmoor National Park today!
'To end this week's visit to the South West of England, TRH helped mark 70 years of UK National Parks at a colourful event. The Prince and The Duchess chatted to members of the local community, and met stallholders, food producers and craftspeople. At the end of the visit, TRH were presented with a towering Exmoor-themed cake.'
And royal fans couldn't help but spot the romantic gesture between Charles and Camilla – a birthday hug - and quickly gushed about their relationship in the comments.
One wrote: 'Omg! He loves her so much! So sweet!😭❤️'.
Another said: 'I love how Prince Charles and the Duchess are together'.
A third added: 'Oh I love how Charles draws Camilla into him when he gave her a squeeze. You can really see the true love they have for each other. It's not giddy, it's just warm and natural. Happy birthday Camilla, you're fab! 😘👌🎂'
A fourth also added: 'Happy Birthday !! 🎉 I love how happy they look together.'