Palace denies Duke and Duchess of Sussex set rules for their Windsor neighbours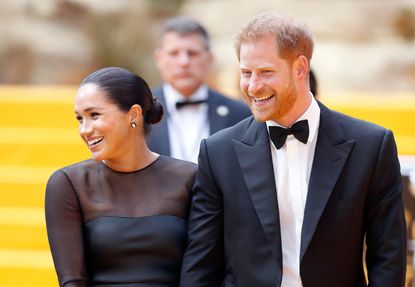 (Image credit: Getty Images)
The royals have denied Prince Harry and Meghan Markle had anything to do with a list of strict rules that were issued to their Windsor neighbours.
Buckingham Palace has released a statement stating the Duke and Duchess of Sussex had "nothing to do" with a recent meeting in which their neighbours were given a list of rules, which reportedly told them not to approach the Royal couple.
It was claimed residents living close to Frogmore Cottage in the grounds of the Queen's Windsor estate were also told not to pet their two dogs, that they shouldn't offer to baby sit or ask to see baby Archie.
The report also claimed they couldn't post anything through the letterbox of Frogmore Cottage.
Prince Harry, 34, and Meghan Markle's new home is located on the private Windsor estate, which is also home to many Crown Estate staff as well as other officials. The meeting is thought to be a regular fixture for the locals.
However, the Palace has now issued a statement saying the talk at the recent meeting was given by a local manager, and the Duke and Duchess of Sussex weren't involved in any capacity.
MORE:Duchess of Cambridge's £8 high street earrings are finally back in stock
A spokesman for Buckingham Palace said, "The Duke and Duchess had no knowledge of this briefing and no involvement in the concept or the content. This was a well-intentioned briefing to help a small local community know how to welcome two new residents and help with them any potential encounter."
MORE:Meghan's new eternity ring from Prince Harry includes the sweetest tribute to their new family
The statement continued, "There was no handout or letter. The talk was undertaken by a local manager and was widely viewed as being well received."
The new parents moved from their two-bed home in Kensington Palace into Frogmore Cottage shortly before welcoming baby Archie Harrison Mountbatten Windsor on May 6.