Oprah Winfrey reveals the surprising reason she can't be Lilibet's godmother
Oprah was the original front runner to be Lilibet's godmother, but it looks like the legendary talk show host wants Harry and Meghan to remove her as a candidate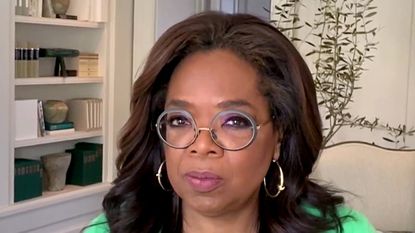 (Image credit: Getty Images/Getty Images for Global Citizen)
Oprah has revealed she is not going to be Lilibet's godmother—and the reason has us all a 'Lil' confused.
Oprah has confirmed she won't be Lilibet's godmother, citing a very strange reason for the decision.
The media mogul was tipped to be godmother of Prince Harry and Meghan's second child after the success of her interview with the couple in March.
From the moment Meghan Markle and Prince Harry announced the birth of their daughter earlier this month, royal fans have been hoping for more details on the aristocratic infant. The Duke and Duchess of Sussex welcomed their second child, Lilibet Diana Mountbatten-Windsor, on 4th June, and are now on joint parental leave at their $14 million Santa Barbara mansion.
After a whirlwind of baby fever, it seems like the couple have taken a break from their philanthropy to spend quality time with the newborn. While Meghan has circulated baby photos of Lilibet to the Royal Family via WhatsApp, no snaps of the Queen's 11th great-grandchild have been shared with the media.
The baby's godparents also remain a mystery—but it looks like we can officially rule out one highly popular candidate. Lilibet Diana Mountbatten-Windsor's godmother was tipped to be American superstar Oprah Winfrey, with many royal fans convinced Meghan and Harry would choose the chat show legend following the success of their bombshell interview last March.
The possibility was also hinted at by Omid Scobie, Meghan and Harry's friend.
"If one of those godparents is Oprah—and I'm not saying that she is—then you can understand why perhaps they want to keep that to themselves because even Oprah sitting down to interview them was controversial enough in itself," the royal biographer told the Sun.
Unfortunately, it seems the rumors were just that—rumors. Oprah confirmed that she will not be Lilibet's godmother during a recent interview with Entertainment Tonight, disappointing royal fans everywhere. When asked about the matter, she replied, "I don't need to be a godmother. I mean, I'm a godmother by default. I'm a neighbor, I'm a friend."
The media mogul then admitted the surprising truth behind her rejection of the role—her age. "I think you probably need someone younger to be the godmother," she quipped, prompting a laugh from host Kevin Frazier.
Oprah may not be the youngest of Harry and Meghan's Hollywood chums, but when it comes to being a child's mentor, she's certainly more than qualified. The 67-year-old is already godmother to her best friend Gayle King's kids, Kirby and Will, and has reportedly always played an active role in their lives. She even hosted Kirby's wedding at her Montecito mansion in December 2020, due to the COVID-19 pandemic restricting venue options.
Now that's what we call a godmother!