Meghan Markle makes last-minute trip to US without Prince Harry and baby Archie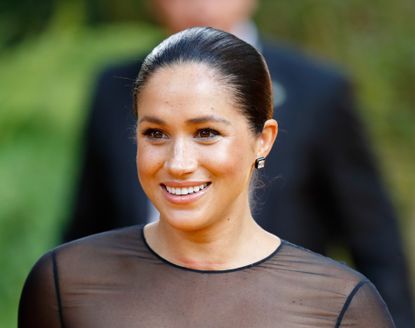 The Duchess of Sussex is reportedly travelling to New York to see her friend Serena Williams play at the US Open final.
• New reports claim that Duchess Meghan Markle has flown to the US for the weekend.
• She's gone without husband Prince Harry or their son Archie.
• This follows royal news (opens in new tab) that the Duchess of Cambridge wore a high street as she dropped off Princess Charlotte on her first day of school (opens in new tab).
Just days before she returns to work after maternity leave, Meghan, 38, has made a speedy trip back to America without her family to support a close friend, according to reports.
The Times claimed that the Duchess is travelling to New York to watch one of her best friends, Serena Williams, 37, compete in the final of the US Open over the weekend.
MORE: 'No one is perfect' Prince Harry breaks silence on private jet controversy (opens in new tab)
The publication reported that she boarded a commercial flight on Friday morning without her husband Harry or their baby boy Archie. She also travelled without her staff, although she was accompanied by security.
Meghan apparently had stayed up until 1am on Thursday night to watch Serena defeat Elina Svitolina in the semi-final, and had been toying with the idea of going to New York to support the tennis star after she won the quarter-final on Wednesday (September 4).
Serena will compete in the finals against Canadian Bianca Andreescu on Saturday (September 7).
MORE: "He will be deeply missed" Duchess of Sussex honours late friend Peter Lindbergh in emotional post (opens in new tab)
Despite their busy lives, Duchess Meghan and Serena have ensured their friendship remains strong as Serena attended Meghan's two-day baby shower back in February.
The royal also sat courtside to cheer her friend on during the 2019 Wimbledon Women's Singles.
Isa Jaward is a journalist from London who has written for the likes of Time Out, The Guardian and Music Week.