This is what the royal household split means for Prince Harry and Meghan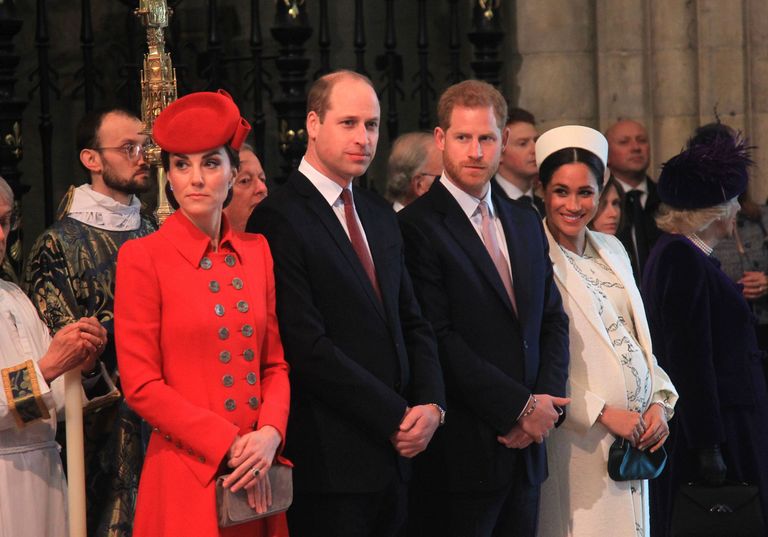 By Amy Hunt
It has been officially announced that, after months of speculation, the Duke and Duchess of Sussex will be separating their royal household from the Duke and Duchess of Cambridge.
In a move that many royal experts had seen coming for the two couples, the decision will eventually see Harry and Meghan part ways with Catherine and William, to create a new office for staff and all matters related to their charitable work.
The announcement revealed that the new household will be created with the support of the Queen and the Prince of Wales, and will be formally established in the Spring - after the birth of Meghan and Harry's first baby.
MORE:Inside Frogmore Cottage, Prince Harry and Meghan's new Windsor home
It's thought that the decision will now mean Harry (and Meghan) will be on a level with his royal aunts and uncles - Prince Andrew, Princess Anne, and Prince Edward - working in a supporting role to the monarch.
Kensington Palace confirmed that this had been a long-planned move, to ensure 'permanent support arrangements for the Duke and Duchess's work are in place as they start their family and move to their official residence at Frogmore Cottage.'
The move will, according to royal reporters, see the majority of the couples shared, Kensington Palace staff, remain working for the Cambridges, while the Sussexes are thought to be hiring a new team of aides.
However, there have been some announcements made already regarding staff. It's been revealed that former head of communications to both couples, Jason Knauf, will now stay with Kate and William, as their senior advisor.
Christian Jones, who previously looked after Harry, Meghan, Catherine and William as Jason's deputy, will now lead only the Cambridges media communications.
The Duke and Duchess'sHousehold Office will now be based at Buckingham Palace, much like Anne, Andrew's and Edward's,and will see staff report to the Queen's communication secretary Donal McCabe.
Harry and Meghan hire Hilary Clinton's former campaign advisor as secretary
Harry and Meghan have hired their first member of the team, former campaign advisor to Hillary Clinton - Sara Latham - who will be their press secretary.
Sara has a hugely impressive CV, having worked for Bill Clinton too back in the '90s, and having completed special advisor roles in the UK government too.
Harper's Bazaar report that the couple are "very much looking forward" to starting work with Sara, after the birth of their baby, which is expected to happen near the end of April.
So why have the two royal brothers and their wives opted to separate their household, which they've worked together in for years now?
Reportedly, a range of different ideas were put forward for the couples going forward. But it was thought that this one was the only one to make sense, given that the Sussexes and the Cambridges are facing very different futures within the monarchy.
While William and Catherine are gearing up to become the new Prince and Princess of Wales when Charles takes to the throne, Harry and Meghan will take on a less intense royal role, supporting the monarch from more of a distance.
MORE:Who lives at Kensington Palace and what's it really like inside?
It'll also allow better support for the couples as they continue to build on their own, separate charity work. Since Prince Harry married Meghan, the work he has taken on alongside his brother and sister-in-law has dwindled, with him instead working much more closely with his wife.
But while there is plenty of change afoot for the royal couples, it seems this move won't be happening instantly. According to royal reporters, it is a 'step-by-step' process.
Many royal fans have also begged the question, what will happen to the couples' social media?
It is still unknown at the moment, although many have speculated that the Duke and Duchess of Sussex will create their own, while Kate and William may keep the 'Kensington Palace' accounts, given that that is where they are based.