King Charles reveals glimpse of sweet tribute to wife Camilla in private home
King Charles has a touching tribute to Camilla Queen Consort on the wall of his Highgrove House residence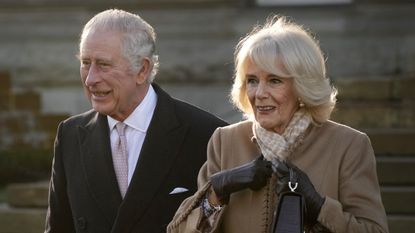 (Image credit: Getty Images)
King Charles welcomed guests to Burns Night celebrations on Wednesday evening, where royal fans caught a glimpse into his home and an adorable tribute to Queen Consort Camilla.
The Highgrove Garden Instagram account shared a collection of photos from King Charles' Burns Night celebrations.
One included a snap of dancers in front of a portrait of Camilla proudly hanging on the wall.
Highgrove House was the setting of a fun Burns Night celebration last week, with King Charles III's sweet tribute to Queen Consort Camilla revealed.
Following the festivities, the official Instagram account for the residence shared a string of photos from inside the party.
This included a snap of dancers in tartan dresses performing for guests, with a photo of Camilla seen in the background handing on the wall in a thick gold frame.
The caption reads, "It was wonderful to see such an incredible turnout for Wednesday night's Burns Night black-tie dinner and dance to celebrate the life and works of Robert Burns.
"It was truly a night to remember, from the bagpipes playing as guests entered, to the pipping of the haggis, to toasting Robert Burns with Highgrove's Scotch whisky, to the incredible Scottish dancing accompanied by the Ceilidh Tree Quartet."
Highgrove is the private residence of The King and The Queen Consort, near Tetbury in Gloucestershire.
His Majesty has owned the property since 1980 and has completely transformed the gardens around the house.
When he was married to the late Princess Diana, Charles used to live in the country retreat with and their two sons, Prince William and Prince Harry.
It was also where Charles retreated to mourn his mother Queen Elizabeth II following her death aged 96.
The property has nine-bedrooms, six-bathrooms, four reception rooms and a nursery wing, as well as 347 acres of land.
Highgrove House was built between 1796 and 1798 by John Paul Paul before it was bought by businessman Maurice Macmillan, son of ex-PM Harold Macmillan.
According to reports, Charles bought the stunning home for around $1million (£800,000) and it's now thought to be worth $3.9million (£3.2million).
While Highgrove House remains off limits, you can visit the gardens which are open for tours, including group garden tours and champagne and tea tours.
You can enjoy a Highgrove cream tea in the Orchard Tea Room and browse the Estate Shop for a range of artisan pieces.
All profits are donated to the Prince of Wales' Charitable Fund, which supports mental and physical health activities, the arts and the environment.
Naomi is a news and lifestyle journalist and digital content creator with bylines in The Independent, The Sun, Cosmopolitan, and Fabulous. She covers a range of topics and currently works at Heart Radio in London.