Kate Middleton 'holds future of the monarchy in her hands' with 'troubling' royal times ahead
The future of the royal family is said to be riding on Kate Middleton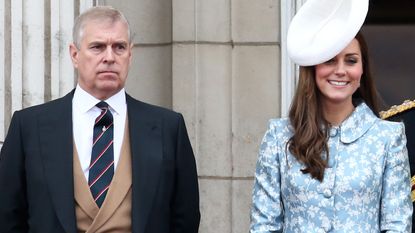 (Image credit: Photo by Chris Jackson/Getty Images)
Kate Middleton has the future of the monarchy "in her hands" amid troubles bubbling around the royal family, according to one of Princess Diana's former members of staff.
Kate Middleton is the key to helping the royal family survive upcoming troubles, one of Princess Diana's former insiders believes.
With the Duchess of Cambridge being a consistently loved and scandal-free member of The Firm, it's been said that the future of the Queen's monarchy "lies in her hands".
This royal news comes after it was reported that Prince Andrew broke down "in tears" when the Queen stripped him of his titles, amid feelings he has let her down ahead of a vital time.
---
Princess Diana's former chief of staff has claimed that Kate Middleton will be essential in helping the royal family stay afloat during what could be a tough year, following the news that Prince Andrew has been stripped of his HRH title and military honors.
Last week, Her Majesty shared a statement to confirm that she had agreed to have the Duke of York's titles, honors and patronages returned to her, following the news that his civil sexual assault trial will likely go ahead.
Prince Andrew's bid for Virginia Giuffre's civil case against him to be scrapped was rejected by a US judge, in light of claims that Virginia was forced, by Jeffrey Epstein, to have sex with the royal when she was17-years-old.
Prince Andrew denies the allegations.
Now, Patrick Jephson, who once worked for the Duchess of Cambridge's mother-in-law, Princess Diana, has predicted that Kate could be the only royal to carry the monarchy out of the scandal.
"As the Prince Andrew scandal shows, the monarchy is in desperate need of reassuringly conventional royal performers," he told The Post.
"Catherine is just what these troubled royal times need. It's no exaggeration that the Windsors' future lies in her hands."
This comes after royal expert Robert Jobson predicted that Kate and her husband, Prince William, will bear the heavy burden of the monarchy as the years go by, thanks to Prince Harry and Meghan Markle's 2020 royal departure.
"Going forward, pressure will increasingly be on Charles and Camilla. But long term it will be William and his wife, Catherine, who will carry the heavy burden of making the Crown relevant," he told the Mirror.