Kate Middleton follows late Queen Elizabeth and Prince Philip's golden rule when it comes to royal engagements
Kate Middleton has modelled herself on the late Queen Elizabeth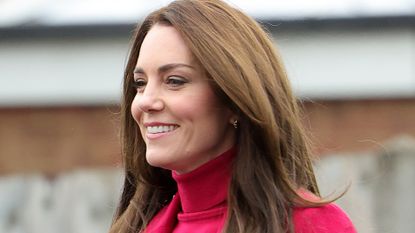 (Image credit: Getty)
Kate Middleton has once again been compared to the late Queen Elizabeth, as it's been revealed she sticks to a key rule made by the late monarch and her husband, Prince Philip.
When it comes to royal engagements, the Princess of Wales still sticks to advice she was given when she first joined the Royal Family back in 2011, when she married Prince William.
A royal biographer has drawn the comparison between Kate and Queen Elizabeth, who died in September.
---
Giles Gyles Brandreth, author of Elizabeth: An Intimate Portrait, has pointed out a key way that Kate is following in the footsteps of Her Majesty.
In his book, Mr Brandreth recalled a conversation he had with Prince Philip when Kate first stepped onto the royal scene. He wrote, "When Catherine Middleton came along as a potential bride for his grandson, Prince William, the Duke of Edinburgh was, he told me, 'relieved to find her such a level-headed girl.'"
Gyles added how the Duke warned Kate, "If you believe the attention is for you personally, you're going to end up in trouble. The attention is for your role, what you do, what you're supporting. It isn't for you as an individual. You are not a celebrity.
"You are representing the Royal Family. That's all. Don't look at the camera. The Queen never looks at the camera. Never. Look at who you're talking to. Look at what you've come to see."
Gyles himself continued, "I have been on walkabout with the Duchess of Cambridge. She does not look at the camera. Whenever she is interviewed, Catherine talks about the matter in hand, never about herself."
And this isn't the first time the Prince of Wales has been compared to Queen Elizabeth. The Channel 5 royal documentary, Kate: Our Queen in Waiting, also draws on the similarities between the two royals, particularly when it comes to public engagements.
Narrator David Riley said of the Princess, "Kate's stoical attitude towards the press mirrors that of the Queen herself. It's felt by many to be the appropriate royal response."
Historian Dr Chandrika Kaul added: "Kate epitomises the adage 'never complain, never explain' much like the Queen has in her successful and long reign."
Kate's most recent royal engagement was to a food bank in Windsor on Thursday with Prince William, nearby to their Adelaide Cottage home.
The Princess of Wales wore a gorgeous red coat for the occasion, where the royal couple met with volunteers, learnt about how the cost of living crisis is meaning the need for the service is on the rise and lent a hand packing up food parcels to be given to those in need.
Following their food bank visit, Kate and William took to social media to share a carousel of photographs from their day at Foodshare.
Alongside snaps of the pair lending a hand, a caption reads, "Wonderful to spend some time with volunteers at Windsor Foodshare this morning. The donations and food packages make such a difference to those in the local area who need them. Hope we were more of a help than a hindrance when it came to the packing!"
Robyn is a celebrity and entertainment journalist and editor with over eight years experience in the industry. As well as contributing regular to woman&home, she also often writes for Woman, Woman's Own, Woman's Weekly and The Sun.