Kate Middleton's 'early years' foundation marks her biggest royal project yet
Kate Middleton's latest foundation will raise awareness on the importance of investing in a child's early years for long-term health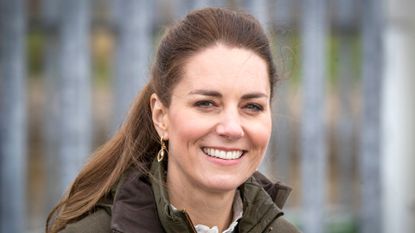 (Image credit: Photo by Jane Barlow - WPA Pool/Getty Images)
Kate Middleton has unveiled an exciting new project, which aims to raise awareness of the importance of children's early years for their future wellbeing.
Kate Middleton has launched a major new project to help the UK's future generations.
The Duchess of Cambridge announced the launch of the Royal Foundation Centre for Early Childhood earlier this morning, an initiative that promotes the investment in the first five years of a child's life to enhance their long-term wellbeing.
---
Kate Middleton is on a mission to help UK adults—and it starts with our children.
The Duchess of Cambridge announced the launch of the Royal Foundation Centre for Early Childhood today, a groundbreaking charity that emphasizes the importance of investing in younger kids. The organization, which was inspired by Kate's experience engaging with the public since joining the Royal Family in 2011, hopes to "change the way people think about early childhood through fresh research."
In a passionate video message to her 2.2m Twitter followers, the future Queen of England explained how the project emerged from a growing concern for the prevalence of her country's mental health issues.
"I wanted to understand what more we could do to help prevent some of today's toughest social challenges, and what more we could do to help with the rising rates of poor mental health," she said.
Today I'm proud to be launching The Royal Foundation Centre for Early Childhood — let's embrace this golden opportunity to create a happier, more mentally healthy and more nurturing society.https://t.co/KKE6QfX99c pic.twitter.com/CWFogp9NZ3June 18, 2021
See more
After speaking with "psychiatrists and neuroscientists, practitioners, academics and parents," Kate came to realize that "the best investment for our future health and happiness is the first five years of life."
The Duchess's interest in mental health advocacy is nothing new. Prince William and Kate Middleton discussed challenging the 'stigma' surrounding mental health as part of their Time to Change campaign last March, five years after the launch of their Heads Together initiative in collaboration with Prince Harry. The mom-of-three hopes that her latest project will speed up progress towards creating a "happier and mentally healthier society", by laying "important foundations for our future selves."
The Royal Foundation Centre for Early Childhood promotes a holistic approach to achieving this goal, calling for numerous small changes to be made in society in the hope of executing the transformation. Creating communities of support, nurturing healthy development from pregnancy, and bolstering the early years' workforce are all high up on Kate's priorities for this new project.
"I truly believe, big change starts small," she said at the end of her video message.