Meghan Markle's first marriage - who was her first husband and what is her ex-husband doing now?
As Prince Harry and Meghan Markle reveal they married in secret before fairytale £32m wedding we look at the Duchess' previous marriage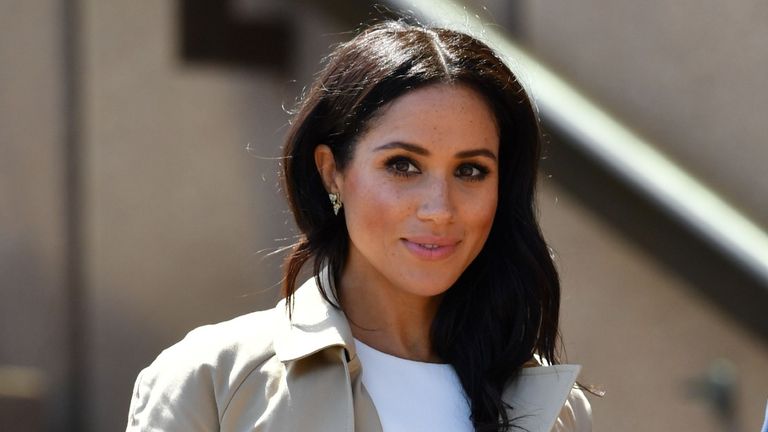 (Image credit: SAEED KHAN / Contributor Getty)
The Duchess and Duke of Sussex have hit headlines after a bombshell interview on life within the royal family was broadcast.
• Meghan and Prince Harry married in 2018
• Her marriage to Harry was Meghan's second marriage having previously tied the knot in 2011
• In other Royal News, this is Meghan's one regret after leaving the Royal Family
Meghan Markle and Prince Harry admitted they married in secret just days before their public Windsor Castle wedding but it's not the first time the Duchess has walked down the aisle.
Before she married Prince Harry in 2018, the Duchess of Sussex was previously married to Hollywood producer Trevor Engelson.
Their marriage - albeit lasting a brief two years - saw the couple tie the knot in the Jamaica Inn in Ocho Rios, Jamaica, during a four-day celebration with family and friends in September 2011, Insider previously reported.
Meghan wore a strapless white dress with a silver jeweled belt for her first wedding. It was almost exactly the same as Kate Middleton's second gown, which she wore to her wedding reception with Prince William in April 2011. It's thought Meghan could have been inspired by Kate's look before she walked down the aisle just months later that September.
Who did Meghan Markle marry first?
Trevor Engelson was born in New York and is 41-years-old, making him five years older than Meghan. He works as a film producer who had been at the helm of films including the romantic movie Remember Me starring Robert Pattinson. He is also said to manage and represent screenwriters, actors, directors, and novelists.
Meghan and Trevor met in 2006 and dated for six years before finally getting engaged in 2010. They married a year later in Jamaica, with a four-day celebration. After a quick ceremony, everyone hit the dance-floor. It's understood the ceremony was attended by Meghan's mother Doria Ragland, but it is not clear if her father Thomas was there too.
More from woman&home:
• Best air purifiers to cleanse your home
• Get all zen with our pick of the best yoga mats
• Try these best pillows for your dreamiest night's sleep yet
How long was Meghan Markle's first marriage?
The marriage between Meghan and Trevor only lasted two years. The couple separated, citing "irreconcilable difference." But some reports claim Meghan's role on Suits, which she filmed in Toronto while her husband worked in Los Angeles, is said to have been blamed on the relationship break down as the couple struggled to make a long-distance relationship work.
According to an excerpt from Andrew Morton's biography of Meghan, Meghan: A Hollywood Princess, 'A wealthy entrepreneur friend claimed the marriage ended so abruptly that Meghan sent her wedding and engagement rings back to Trevor by registered post. Another confirmed that the decision to end the marriage was made by Meghan and that it had come 'totally out of the blue'.'
It's understood Meghan's former co-star and friend Abby Wathen said she and the actress bonded over going through divorces at similar times. At the time Abby said, "I was destroyed [after my divorce], but [Markle] was empowered. She took her power back. It wasn't the right relationship for her, so she moved on."
According to The Sun, Trevor struggled with the relationship breakdown. An insider said, "The split with Meghan hit Trevor pretty hard. He went through a rough time during the break-up and that was only made worse when Meghan got together with Harry. He had to re-live it all again — this time in public."
But despite not being the most amicable of divorces, with hurt feelings on both sides, Trevor is said to have bounced back and things are looking "great for him".
Their divorce was finalized in August 2013, and Meghan met Prince Harry in July 2016.
What is Meghan Markle's ex-husband doing now?
The film producer is said to be working on a fictional show for a US TV network that is based on a woman marrying into royalty.
According to reports, the official pitch for the show, being developed by the Fox network boasts, "Divorce is hard. Sharing custody is harder. Sharing custody with the British Royal family when your wife marries a prince, in the unforgiving spotlight of London's tabloid media, is next level."
Trevor has since moved on with his life romantically as he has married US heiress and nutritionist Tracey Kurland but has consistently refused to discuss his former relationship with Meghan, and is reported to have said, "I have zero to say about her," when asked about her in an interview.