Zara Tindall's awkward comment to Prince Harry about his wedding day revealed by lip reader
Zara Tindall made a comment to Harry at Princess Eugenie's wedding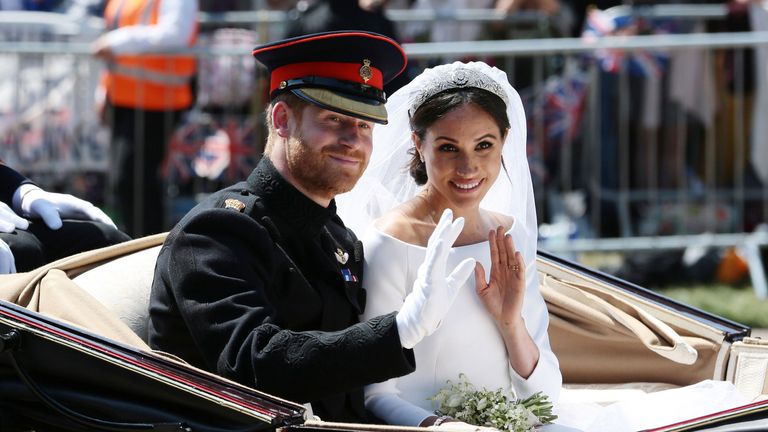 (Image credit: Photo by Aaron Chown - WPA Pool/Getty Images)
Zara Tindall was seen chatting to her cousin Prince Harry and his wife Meghan Markle during Princess Eugenie's wedding back in 2018 and one particular comment has been revealed by a lip reader.
Zara Tindall made a rather cheeky comment to Prince Harry about his and Meghan Markle's wedding day, as they watched Princess Eugenie marry Jack Brooksbank.
According to a lip reader, Zara turned to the Sussexes during the service and compared it to their own wedding.
---
The Queen's eldest granddaughter Zara and her third-born grandson, Prince Harry, are known to have a solid bond and were regularly photographed together, laughing and joking at royal events, before Prince Harry swapped Frogmore Cottage for LA, stepping away from the spotlight of the monarchy.
Zara and her husband, Mike Tindall, were sat in front of the Duke and Duchess of Sussex at their cousin Princess Eugenie's wedding to Jack Brooksbank in October 2018.
The lavish royal ceremony at Windsor Castle's St George's Chapel came just months after Harry and Meghan tied the knot there themselves.
During the service, Zara was seen turning to Harry to say something and now a lip reading pro has deciphered Zara's comment to Prince Harry.
According to the Mirror, Zara told Harry and Meghan, "It's very quiet compared to the screaming at your wedding."
Looking confused, Harry appears to have responded, "Mine?"
While it's unknown exactly what "screaming" Zara was referring to, it's possible that the jibe didn't go down well with the Sussexes—although it may have been taken simply as cheeky cousinly banter.
It's also been reported that the wedding day caused a stir among the family, as Meghan broke the news to some guests that they were expecting their first child, allegedly upsetting Eugenie.
The book Royals At War claims that Meghan angered both Eugenie and her mother Duchess Sarah Ferguson when she shared the baby news on the big day.
"Meghan put her foot in it when she decided that it would be the ideal moment to announce that she and Harry were expecting their first child," the book says.
"This was a huge social gaffe, even if you were not a Royal – stealing the limelight from Eugenie, who was furious, as was her mother, Sarah."
Zara and Mike recently welcomed their third child, with Zara giving birth to royal baby Lucas Philip Tindall on the bathroom floor of their Gatcombe Park home, making daughters, Lena and Mia, big sisters.
"Sunday got even better because a little baby boy arrived at my house. Arrived very quickly, didn't make it to hospital. On the bathroom floor," Mike said on his The Good, The Bad and The Rugby podcast days after Lucas' birth.
"The midwife who was going to meet us at the hospital wasn't that far away so she drove up, got there just as we had assumed the position. The second midwife arrived just after the head arrived."