Princess Diana's former butler warns new documentary could 'drive Harry and Meghan apart' with 'scandalous' revelations
Paul Burrell says "more secrets will be unveiled"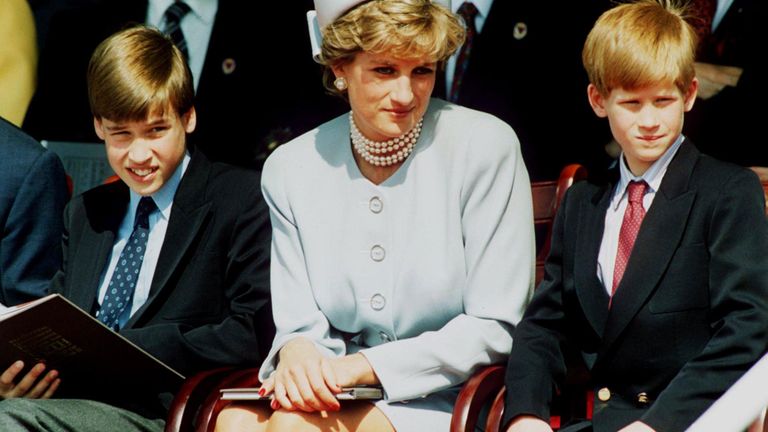 (Image credit: Photo by Anwar Hussein/Getty Images)
Princess Diana's former butler, Paul Burrell, has warned that a new documentary featuring unearthed revelations could drive a wedge between Prince Harry and his wife, Meghan Markle.
Princess Diana's former butler has claimed that Netflix's new documentary on the late Princess of Wales will "unveil secrets" unknown by Prince Harry.
Paul Burrell predicts that the new "exploitation" of Diana could be a bone of contention for Harry and Meghan.
---
The new documentary is set to be released on Netflix to mark the 25th anniversary of Princess Diana's death, following the 2017 film, Diana: In Her Own Words.
Paul, who was a servant within the British Royal Household and worked closely with the Princess of Wales, has claimed that the new footage and tapes of Diana, which were recorded to help Andrew Morton write his biography on her back in 1992, will "unveil secrets" about Prince Harry's mother that he has never heard.
He's also suggested that the sense of his mother being exploited will feel like a conflict of interest for Prince Harry, who signed a deal with Netflix along with Meghan last year, after the pair swapped Frogmore Cottage for life in Los Angeles.
"There'll no doubt be more secrets unveiled and it'll show more of an insight into who she was," Paul said.
Speaking to Closer, he added, "Around that time, she was extremely paranoid - she believed she was being bugged by the press and followed. She had me lifting up floorboards and disconnecting the phone at some points.
"[Harry] has always hated the fact his mother was exploited - and now the same is happening on the very same platform he and Meghan are working on.
"Netflix have capitalised on the appetite for royal scandal with The Crown, Harry and Meghan's upcoming work and now this Princess Diana documentary. If Harry's already feeling torn and uncomfortable about his recent actions, this will no doubt cement those feelings."
Paul went on to explain how Meghan may express an interest in Diana's life as someone who married into the royal fold, pointing out that her opinion on the documentary could be different from her husband's.
"It's very awkward as I think Meghan may see Diana as a role model, and feel she can relate to her. So she'll welcome more insight into Diana's life and for them to be compared. But those differing feelings could create a divide between her and Harry. It could even drive them apart."
Prince Harry recently opened up on how he feels seeing Netflix portray the life of the Queen and his close royal family members in The Crown, a drama that has captured the attention of millions of viewers around the world.
Speaking to James Corden during his appearance on The Late Late Show, Harry said, "They don't pretend to be news. It's fictional."
"But it's loosely based on the truth. Of course it's not strictly accurate… it gives you a rough idea about what that lifestyle, what the pressure of putting duty and service above family and everything else, what can come from that."
"I am way more comfortable with The Crown than I am seeing the stories written about my family, my wife, or myself. Because it's the difference between, that is obviously fiction, take it how you will, but this is being reported on as fact, because you are supposedly news. I have a real issue with that."