Prince Charles says Prince Philip's death left an 'empty seat' at the Royal Family's table as he gives heartbreaking nod to his father
Prince Charles looked emotional as he mentioned the loss of his father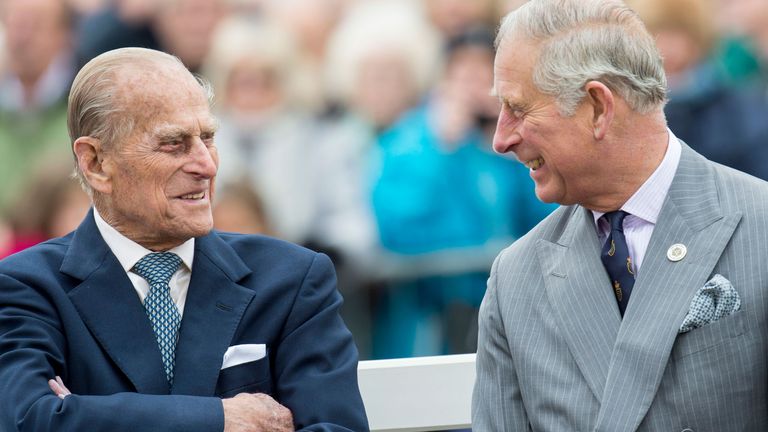 (Image credit: Photo by Mark Cuthbert/UK Press via Getty Images)
Prince Charles has opened up about how the death of Prince Philip has left an "empty seat" at the royal family's dinner table, in a sad nod to his father.
Prince Charles shared a sad insight into the impact Prince Philip's death has had on the royal family.
The Prince of Wales paid tribute to his late father as he reached out to Muslims ahead of the end of Ramadan in a new video.
---
In the touching video clip, shared by the Naz Legacy Foundation, Prince Charles wished the Islamic community in the UK and around the world an Eid Mubarak (Blessed Eid) and empathized with the loss that so many people have endured over the past year.
He reflected on how the pandemic has been "deeply challenging for us all" adding that he is "only too aware of the impact" the global health crisis has had on the Muslim community.
Giving a sad nod to how the Royal Family, like millions of others, are missing relatives and those close to them, Prince Charles added, "This year so many families, like my own, will have an empty seat at their dinner table and friends are no longer able to share the celebratory hug after Eid prayer.
"I can only say how deeply saddened I am by this tragic situation and how my heart goes out to all those who have lost their loved ones."
The Prince of Wales @ClarenceHouse this evening shared a message to Muslims wishing them #EidMubarak as we come to the end of the month of #RamadanYoung people from @NazLegacy & @britishasiantst joined a virtual #Iftar where the message was shared to those observing the fast. pic.twitter.com/BF41i96OCrMay 10, 2021
See more
Royal fans responded to the video with words of support, praising Charles for his emotional words and message of inclusivity.
"So well said Sir. Many thanks for your positivity and continued support of all diverse communities," one wrote.
Another Tweeted, "Love love love how Prince Charles releases an Eid message every year. Thank you Your Royal Highness for your kind & moving message!"
"A 'goodlie' is a person who is good through and through. Prince Charles is one," a third chipped in.
"Thank you Prince Charles for using these events for an inclusive integrated UK," one more penned.
Prince Charles opened up on the death of his father, Prince Philip, shortly after he passed away last month.
Paying tribute to his "dear Papa" he spoke outside his Gloucestershire home, Highgrove House saying, "I particularly want to say that my father for the last 70 years has given the most remarkable devoted service to the Queen, to my family, and to the country, and also to the whole of the Commonwealth.
"As you can imagine, my family and I miss my father enormously.
"He was a much loved and appreciated figure, and apart from anything else, I can imagine he would be so deeply touched by the number of other people here and elsewhere around the world and in the Commonwealth who also share our loss and our sorrow.
"My dear Papa was a very special person who I think above all else would be been amazed at the reaction and the touching things that have been said about him."
It was also revealed recently that Prince Charles had sent incredibly special thank you cards to royal fans who had reached out in support when Prince Philip died.
One royal supportter, who received one of the cards, took to Instagram to share a photo of the rare photograph that came with it.
In the social media upload, shared by @lise_m_d, the card appears to feature the traditional black border and black crest used for letters sent during royal mourning.
A vintage photo of Prince Philip and Prince Charles taken in 1958 can be seen inside the card, showing Prince Philip driving a motorboat during a river race in the Isle of Wight over 60 years ago,
Young Prince Charles, who is believed to be around 10 years old in the snap, is sitting beside his father in the boat.
"The Prince of Wales thanks you so much for your very kind message of sympathy," the message from Charles inside the card reads.
"His Royal Highness has been enormously touched by the many generous messages that have been received in recent days; they have provided great comfort at this very sad time.
"The Prince of Wales sends you his warmest thanks and best wishes."