The sweet bedtime ritual Prince Charles treats his grandchildren to
Apparently, Prince Charles is just like your average grandad...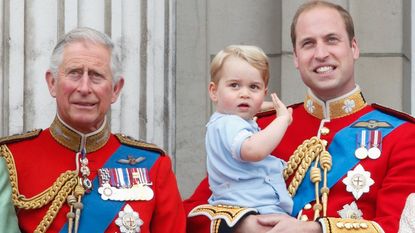 (Image credit: Photo by Max Mumby/Indigo/Getty Images)
Grandpa duties come first for Prince Charles, who reportedly reads his grandchildren Prince George, Princess Charlotte and Prince Louis bedtime stories before the little ones go to sleep.
In a new interview, Camilla, Duchess of Cornwall, reveals that husband Prince Charles is very close to his grandchildren.
Among Prince Charles' favorite books to read to his grandchildren is the Babar the Elephant series
The adorable anecdote was revealed by Camilla in a new interview with the Daily Mail that the outlet published coinciding with her 75th birthday this past weekend.
In the piece, writer Rebecca English reminded Camilla that she once told her that Prince George, Princess Charlotte and Prince Louis would snuggle with their grandfather and read Harry Potter together. When asked whether that's still the case, Camilla said that, although the book has changed, the pastime remains.
"Well, his grandchildren aren't [too old] and he's very good because he does all these voices for them," Camilla said in the interview. "He loves Babar the Elephant. They are such lovely books. I think all ages love them, even grown-ups."
The future King's wife noted that Prince Charles has taken it upon himself to read some of his favorite childhood books to the grandkids.
"I think we all do that, don't we?" she asked rhetorically. "I can never read [my favorite childhood book] Black Beauty to Eliza, my granddaughter, though. She can't cope with anything to do with an animal that is hurt."
The conversation rapidly turned to Camilla's devotion to literature throughout her life and her concerns about the effects of COVID-19-related lockdown measures on childhood literacy, a worry that led her to set up an Instagram account dubbed the Duchess of Cornwall's Reading Room.
On the social media account, which now boasts 142,000 followers, Camilla shares lists of favorite books alongside more literature-adjacent content.
"I got so many letters [after starting the account], saying thank you so much," Camilla said in the latest interview. "There were a few naysayers who said it was never going to work so that made us even more determined. Anyway, it started shooting up. We kept saying: 'Ooh, look at the numbers... 20,000, 30,000... and now we are on to 141,000.'"
Perhaps, Camilla will soon dedicate a post to the sort of children's books that her husband Prince Charles loves to serenade his grandkids with each night. There's just something about reading that excites folks of all ages, whether royal or not, after all.
Anna Rahmanan is a New York-based writer and editor who covers culture, entertainment, food, fashion and travel news. Anna's words have appeared on Time Out New York, the Huffington Post, Fortune, Forbes, Us Weekly, Bon Appetit and Brooklyn Magazine, among other outlets.