Harry's great-aunt Princess Margaret once gave him this 'cold-blooded' Christmas gift
In Spare, Prince Harry remembers the time his great-aunt Princess Margaret gave him a pen with a rubber fish wrapped around it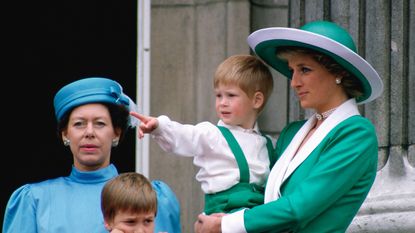 (Image credit: Tim Graham Photo Library via Getty Images)
Prince Harry made a lot of odd revelations in his memoir Spare - but this one about a "cold-blooded" Christmas gift from his great-aunt Princess Margaret might be the weirdest of all.
It seems like people still can't get enough of Harry's much-talked about memoir Spare, which was officially released last month.
In a new round of commentary, readers point to a detail that might have been overlooked at first glance: a Christmas anecdote recalled by the prince.
Although not specifying the year this happened, Harry mentions that his great-aunt Princess Margaret once gave him a "biro" (that would be a pen) with a rubber fish wrapped around it. Remembering it being the smallest present in his pile that season, Harry refers to the token as "cold-blooded" in the book.
Specifically, the bizarre story kicks off at Sandringham, where all family members reunited one year to celebrate the holidays. After describing his surprise at the gift, the Duke of Sussex also writes that Margaret, the former Queen's sister, "didn't have much of an opinion" of him and that he, too, "felt nothing" towards her and actually tried to stay away from her.
Although also describing her as a woman who "could kill a houseplant with one scowl," the author eventually acknowledged that "now and then, as I grew older, it struck me that Aunt Margo and I should be friends."
In fact, as readers may have noted, Margaret and Harry had lots in common as she also was the "spare" to a previous heir.
Speaking of: Prince Harry's heartbreaking inspiration behind Spare title also applies to his late aunt.
As The Guardian (opens in new tab) first reported when obtaining a passage from the book before its official release, Harry claimed that his father hailed him the 'spare' to Prince William as the 'heir' after Princess Diana gave birth to him.
"Wonderful! Now you've given me an heir and a spare - my work is done," King Charles reportedly said to his then-wife Princess Diana the day Harry was born.
Folks around the world have been shocked to read about a ton of other allegations in Harry's memoir, including claims that the author was physically attacked by his brother William in 2019 in his home in London.
According to the Duke of Sussex, William called his sister in law Meghan Markle "difficult," "rude" and "abrasive." Harry supposedly started insulting his brother who then told him he was just trying to help.
"Are you serious?," Harry then responded. "Help me? Sorry - is that what you call this? Helping me?"
The argument then escalated into a physical one.
"He grabbed me by the collar, ripping my necklace, and he knocked me to the floor," Harry wrote. "I landed on the dog's bowl, which cracked under my back, the pieces cutting into me. I lay there for a moment, dazed, then got to my feet and told him to get out."
William reportedly apologized later - but the emotional damage was obviously already made.
Although Spare has been out for quite some time already, we wouldn't be surprised to read new reports about previously unnoticed shocking details.
Anna Rahmanan is a New York-based writer and editor who covers culture, entertainment, food, fashion and travel news. Anna's words have appeared on Time Out New York, the Huffington Post, Fortune, Forbes, Us Weekly, Bon Appetit and Brooklyn Magazine, among other outlets.