The emotional reason why this is a very special week for the Duke and Duchess of Cambridge
So sweet!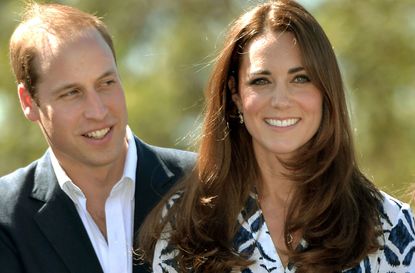 While the Duke and Duchess of Cambridge have only just returned from their royal tour of Pakistan, this week marks a rather momentous milestone for the pair.
This special week marks nine years since the Duke and Duchess of Cambridge became engaged.
Prince William asked Duchess Catherine to be his wife during a romantic trip to Kenya.
Nine years ago this week, Prince William asked the Duchess to be his wife, when he proposed to her in Kenya.
While the couple didn't make their engagement public until the 16th of November 2010, Prince William confirmed that he had popped the question to his then girlfriend turned fiancé during the trip to Africa with friends a few weeks earlier in October.
During their stay, they spent the night in the Rutundu Cabin at the foot of Mount Kenya and reportedly signed the guest book on their departure, detailing their 'romantic' stay.
Catherine wrote, 'Thank you for such a wonderful 24 hours! Sadly no fish to be found but we had fun trying. I love the warm fires and candle lights — so romantic. Hope to be back soon,' while Prince William added, 'Such fun to be back! Brought more clothes this time! Looked after so well. Thank you guys! Look forward to next time, soon I hope.'
Opening up about the proposal in their first interview as an engaged couple, the Duchess admitted that it came as a "total shock".
Detailing his plan behind the grand gesture, Prince William explained how he had been carrying his mother Princess Diana's sapphire and diamond engagement ring in his backpack with him for weeks before, waiting for the ideal moment, confessing that he knew he'd be "in a lot of trouble" if he lost the precious piece.
READ MORE:Loved the Duchess of Cambridge's classy £195 flat shoes? This is where you can buy an amazing lookalike pair for £18
Going into why the use of the family ring was so important to him, he added that it was a way of keeping his late mother "close to it all".
Despite his worries, the Prince revealed that the moment went "really well" adding, "I'm very pleased that she said yes."
On the 29th April 2011 the Duke and Duchess finally tied the knot in a gorgeous ceremony in Westminster Abbey and have gone on to have three children together, Prince George, six, Princess Charlotte, four, and Prince Louis, one.
We're wishing the Duke and Duchess a very happy engagement anniversary!