The Duchess Of Cambridge Announces An Inspirational New Role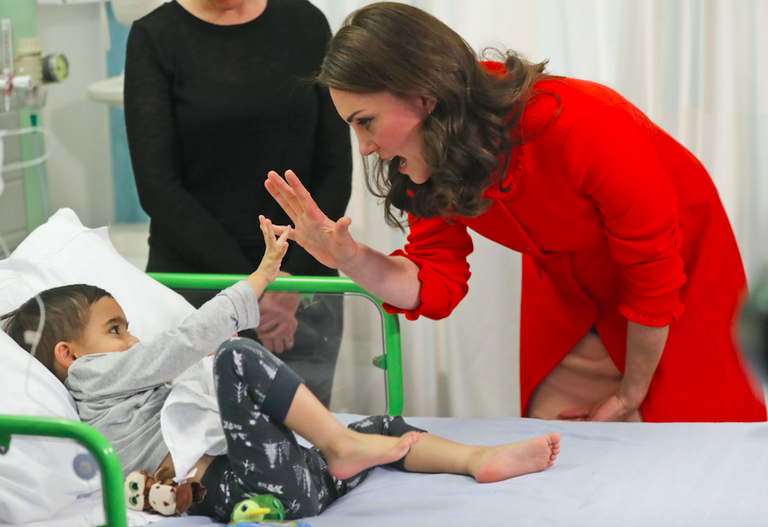 The Duchess of Cambridge is a already committed champion of issues related to children's mental health and emotional wellbeing.
And now Catherine is taking her support for the healthcare service a step further by taking on a role as champion for nurses.
Recognising the pivotal part the nurses play in the NHS and beyond the Duchess will to deliver a major speech to officially launch of Nursing Now 2020 - a global campaign that aims to raise the status and profile of nursing – at St Thomas' Hospital on February 27th.
At the same event the Duchess – whose third child is due in April – will also visit the Royal College of Obstetricians and Gynaecologists (RCOG) where issues under discussion include maternal and newborn mortality, contraception, and the "stigma around women's health".
The Duchess will also spend time observing workshops to teach trainee doctors skills in obstetrics and gynaecology, as well as learning about important work to reduce maternal and newborn death around the globe and hearing from the Leading Safe Choices programme – which aims to "strengthen the competence and raise the standing of family planning professionals in South Africa and Tanzania".
2018 has already seen the Duchess make several important official royal visits to healthcare facilities and research institutes in a bid to find out more about the challenges and issues surrounding maternal mental health.
On January 24th Catherine paid a special visit to the Mother and Baby Unit at Bethlem Royal Hospital on to find out more about their work on the tackling the above issues meeting with staff including: nurses, midwives, health visitors, psychiatrists, as well as spending time with the mothers themselves and how they have benefitted from facilities such as a video therapy room.
Later the same day she met academics at the innovative King's College London's Maurice Wohl Clinical Neuroscience Institute – which is developing new therapies for mental health illnesses – as they revealed that at least 20 per cent of women are affected by mental health problems in their first year after giving birth.
Professor Louise Howard, a professor of women's mental health, shone a light on the Duchess's keen interest in the Insitute's work saying, "She was interested in the fact that we look at the whole range of issues including PTSD and self-harm.
"She was interested in understanding the whole breadth of the issues and how to make people more robust."
Duchess of Cambridge nursing champion - where did it all begin?
The Duchess of Cambridge's interest in the Nursing Now is said to have been driven by seeing the "vital" work of front-line medical staff in several areas of her campaign work.
As the patron of 13 organisations "where she feels her support can make a difference" the Duchess's remit has seen her support for work across everything from children's palliative care to addiction - all areas in which nurses will play an essential role.
Catherine's passion for nursing may also come as a no surprise to those familiar with Middleton family history, as her own great-grandmother, Olive Middleton, worked as a nurse during the First World War.
Her husband Prince William also worked with front-line medics in his role as a search and rescue pilot. The Duke also has a number of key roles supporting healthcare including President of the Royal Marsden NHS Trust and Honorary Fellow of the Royal Society of Medicine.
With the NHS currently facing a worrying winter crisis the combined efforts of the Duke and Duchess of Cambridge in supporting this important institution couldn't be more timely.