Duchess of Cornwall looks fabulous as she ups style stakes with big trend of the season
LOVE this look!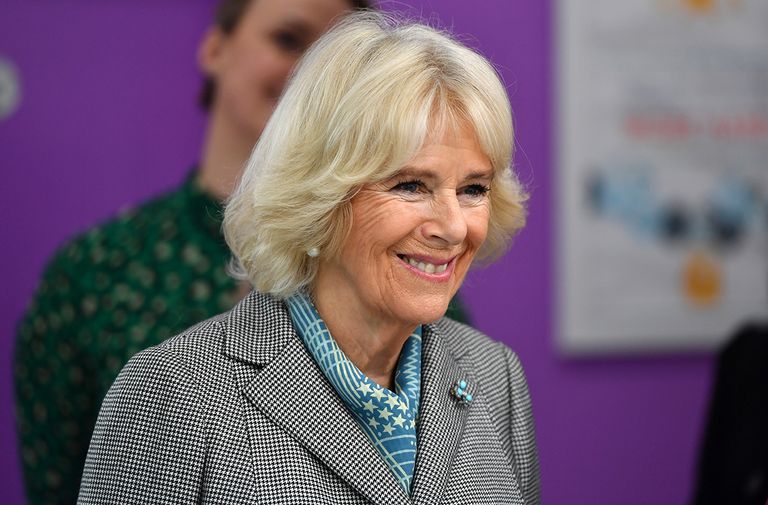 (Image credit: Getty)
The Duchess of Cornwall has stepped out in a fabulous outfit. Duchess Camilla is staying on trend with a fashionable blazer.
The Duchess of Cornwall gives us all serious wardrobe envy every time she steps out for any sort of engagement.
Like her stepdaughters-in-law the Duchess of Cambridge and the Duchess of Sussex, she gives royal style a good name with her stream of trendy picks.
And the Duchess has done it again. But this time she's gone a step further by taking a major fashion trend of the season and putting her own seriously cool twist on it.
The Duchess stepped out earlier today to carry out an engagement in the West Midlands with the area's Walsall Council.
She unveiled the new Lichfield Street Hub and even did a sweet reading of popular children's book The Gruffalo to the area's Tiny Tots group.
And while carrying out the heartwarming engagement, the Duchess, who is married to heir apparent Prince Charles, stepped out in a gorgeous houndstooth blazer dress.
The button-up dress took on one of the season's biggest trends with the classic monochrome print, and the royal's lovely turquoise brooch gave the outfit a pop of colour.
However, the Duchess took her fashion a step further by completing the look with a chic neck scarf.
The turquoise scarf, which matched the decorative brooch perfectly, was printed with clashing stars, stripes and zig-zags, giving a stylish finish to the chic look.
MORE: 'I was very lucky' Duchess of Cornwall opens up about her father in very personal essay on topic close to her heart (opens in new tab)
Duchess Camilla also glowed with natural makeup and a pop of pink on the lip that went hand in hand with the monochrome look.
Duchess what style tips will you grace us with next?!