Duchess Camilla 'dreading' Prince Charles taking the throne for fear of Queen backlash
Camilla "tries not to think about" Prince Charles becoming King...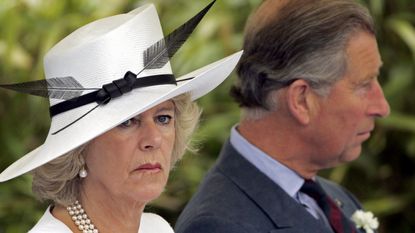 (Image credit: Photo by Mark Cuthbert/UK Press via Getty Images)
Duchess Camilla is reportedly feeling a sense of "dread" over the prospect of Prince Charles taking the throne and "choosing not to think about" it, amid fears she will face backlash when she becomes Queen.
Duchess Camilla and members of her family are said to be "dreading" the day her husband Prince Charles becomes the King.
According to a royal expert, the Duchess of Cornwall tries to avoid thinking about the Prince of Wales taking on the responsibilities of the crown, amid fears she will face backlash from the nation when she becomes his Queen Consort.
---
According to royal biographer Penny Junor, "at least one member" of Camilla's close family is concerned about the the reaction the Duchess will receive if she ends up becoming a Queen Consort to Prince Charles, who is preparing to swap Clarence House for Buckingham Palace in coming years.
The royal expert, who penned the book The Duchess: The Untold Story, also claimed that Camilla is known to not be keen on the idea of taking the name she is entitled to when Charles ascends his mother—having married Charles for nothing but love.
However, according to Penny, proud husband Charles is eager for his wife to be given her full title when he finally takes his.
"I have little doubt that Charles is so proud of Camilla, and so grateful for everything she has done for him and sacrificed for him, that he will insist she gets the full title," writes Penny.
"Friends and family know it is not something she wants – she has said as much.
"She is in this position because of her love of the man, not because of her desire to be anything more than a support to him.
"The whole business of his accession is something she dreads and, in her inimitable way, is choosing not to think about."
An unnamed member of Camilla's family is also said to have suggested she take the title of Princess Consort, in order to avoid any resistance from the public over her being Charles' Queen.
"I think it would be better for her if she became Princess Consort," the relative told Penny.
"I do so want her to be all right and I do worry that she won't be. How is she going to be judged?"
Meanwhile, Camilla's son, Tom Parker-Bowles, recently admitted that the decision on Camilla's title when Charles is King has not been made yet.
"I honestly don't know if Mum will be called Queen. That hasn't been decided," he told The Times.