The secret behind Camilla, Duchess of Cornwall's chic nude heels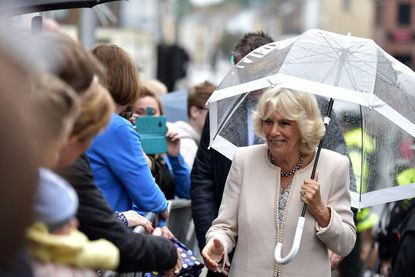 (Image credit: Charles McQuillan)
Camilla, Duchess of Cornwall wears a pair of £149 shoes which are specifically designed for women with bunions.
The Duchess of Cornwall has been spotted in a pair of chic leather heels which were designed for 'ladies who can't wear heels' and are created by brand Sole Bliss especially for those who suffer from bunions.
Camilla stepped out with Prince Charles in Northern Ireland this week, sporting a pair of nude heels that perfectly completed her outfit.
The stylish yet comfortable shoes, which have been specifically designed for women who suffer from bunions, feature a special cushioned stretch panel to accommodate a 'bunioned' foot, and three different layers underneath the foot to provide cushioning and absorb some of the pressure whilst walking.
The Duchess of Cornwall, 70, was wearing the brand's 'Ingrid' shoe in camel leather when she stepped out on the first day of her four day visit to Northern Ireland and the Republic of Ireland with the Prince of Wales.
For a busy day of official visits, the shoes would have been ideal for the 70-year-old Duchess, as they have been designed so the wearer is 'comforted with every step you take.'
The heels are the first from the brand to feature a rounded almond-toe shape, cost £149 per pair and also come in black suede and coral red suede.
'Ingrid' shoe in camel leather, £149, Sole Bliss (opens in new tab)
'I wanted to develop a collection of shoes which are both deep and wide enough for the 'bunioned' foot, whilst still looking really stylish and fashionable,' Sole Bliss founder Lisa Kay told the Daily Mail.
It's not the first time Camilla has been spotted in the brand's signature ultra-comfy shoe design. The Duchess also wore a pair of Sole Bliss shoes on her last trip to Northern Ireland with Prince Charles in May 2017.
Sole Bliss sell their full shoe collection online on their website solebliss.com, or you can also purchase Sole Bliss shoes at Lisa Kay Shoes (Whetstone, North London), Fitzpatrick Shoes (Dublin, Ireland) and John Ian (Cardiff, Wales).
Digital Editor - Woman & Home
An internationally published digital journalist and editor who specialises in SEO strategy and content production, Rachael has worked as a writer and editor for both news and lifestyle websites in the UK and abroad.
Rachael's published work covers a broad spectrum of topics and she has written about everything from the future of sustainable travel, to the impact of the coronavirus pandemic on the world we live in, to the psychology of colour.