See new comedy, Instant Family, for free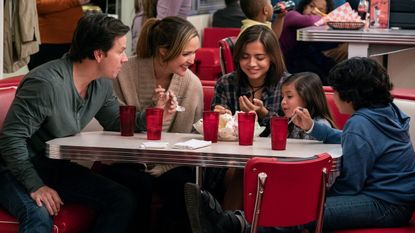 Promotional feature with Paramount Pictures.
It's cold, it's dark, it's snowing. But what better ways to lift the January blues that an exclusive VIP night out watching a brand-new, heartwarming movie.
We've teamed up withParamount Pictures to give away free tickets to a VIP screening of new comedy dramaInstant Family onTuesday 5th February, at 25 sites across the UK.See which sites here. (opens in new tab)
This comedy drama stars Mark Wahlberg and Rose Byrne as a married couple looking to fill the 'void' in their marriage through fostering.
Inspired by real events from the life of writer & director Sean Anders (Daddy's Home, Daddy's Home 2),Instant Family sees Ellie and Pete navigate the ups and downs of the foster-care system - after adopting three wild kids who have little interest in being parented.
When Ellie and Pete discuss starting a family, they cringe at the idea of being "those old parents" by the time their child graduated university and joke wouldn't it just be easier to adopt a 5-year-old and pretend that they started the process five years earlier.
When they start to look into adoption though, they realise that they can do a lot of good by adopting. They decide to go for it by fostering and then adopting a young boy or girl.
Unexpectedly the child they connect best with is a teenager. More than that – she has two younger siblings! Despite some reservations, Ellie and Pete foster all three kids. As they welcome the tight-knit siblings into their lives, Ellie and Pete find out through laughter and through tears what being a family is all about.
To see the movie for yourself at our exclusive free screening,click here. (opens in new tab)
We love this movie and we think you will too. To find screenings and book tickets visitthe Instant Family Facebook (opens in new tab) page for more info.
Instant Family will be released into UK cinemas on February 14th 2019
© 2019 Paramount Pictures. All Rights Reserved.