Will Sex/Life on Netflix get a third season? The future of the series has been revealed…
What's next for Billie and Brad? Netflix have revealed their plans for the show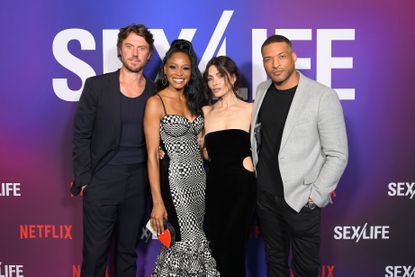 (Image credit: Charley Gallay/Getty Images for Netflix)
Fans of Sex/Life, prepare yourself for something of an anti-climax…
There'll be no more steamy action from the popular Netflix series as bosses for the streaming site confirmed that season two will be the last.
The raunchy drama – inspired by BB Easton's 2016 book 44 Chapters About 4 Men – released its second season last month, following on from season one in 2021.
The first season proved to be a massive, viral hit – with certain scenes lighting social media ablaze and having everyone talking.
When the show returned last month, the main cast were all back. Sarah Shahi returned as Billie Connelly, alongside Mike Vogel as Cooper and Adam Demos as Brad Simon - the three attractive characters entangled in a love triangle with twists and trysts.
*Look away now if you still haven't finished the second (and, as it turns out, final) season.*
Netflix wrapped up the series with Billie and Brad's wedding on a beach. Though it took them a lot of time to get there – including a couple of failed marriages with other people first.
However, it was all worth it for a happily-ever-after ending. Billie is shown whispering in Brad's ear happily "I'm pregnant."
While it's not clear if this is a fantasy, it's a wholesome ending to the erotic series – and it's all fans are going to get.
A Netflix spokesperson confirmed to PEOPLE that the series has been canceled.
The spokesperson notes the second season gave the show a natural close by wrapping up the central characters's respective arcs, and the streamer is proud of the efforts made by the show's producers, cast and crew.
While your show getting canceled might seem like a downer, the show's protagonist will likely be unbothered, as she's been vocal about difficulties making the second season.
"I'm not going to put it down, but I definitely did not have the support that I did the first season from the people involved in the show," Sarah said on a recent episode of the Not Skinny But Not Fat podcast.
"I struggled with the material. I just felt the thing that it had the first season… I mean, I'm never gonna work for Netflix again now after saying all this, but I can't lie. And it was definitely a challenge."
She added that she was "bummed that I wasn't able to work with [real-life boyfriend, Adam Demos] as much because I really liked our stories and I like working with him."
"Also, what ended up happening is I was working so much and he was working so little. He's in 60 seconds of the entire thing. I never saw him."
"There were other things that I just felt I couldn't get behind, and it was just challenging."
Jack Slater is not the Last Action Hero, but that's what comes up first when you Google him. Preferring a much more sedentary life, Jack gets his thrills by covering news, entertainment, celebrity, film and culture for woman&home, and other digital publications.
Having written for various print and online publications—ranging from national syndicates to niche magazines—Jack has written about nearly everything there is to write about, covering LGBTQ+ news, celebrity features, TV and film scoops, reviewing the latest theatre shows lighting up London's West End and the most pressing of SEO based stories.