Why is James Corden leaving The Late Late Show after 8 years?
The creator of popular segment Carpool Karaoke, James Corden is officially leaving The Late Late Show to put down some roots in London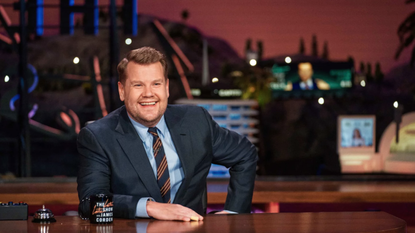 (Image credit: CBS)
It's been eight wonderful years since British import James Corden landed on the American TV scene to take over The Late Late Show from Craig Ferguson. And, now, James' time on this side of the Atlantic has come to an end - but why did the host decide to leave his post on the popular CBS late-night show?
Although The Late Late Show bosses pulled out all the stops ot keep James Corden from quitting America, it turns out that the now 44-year-old host could not be swayed in his decision to move his family to London following nearly a decade in the United States.
James opened up about the end of his hosting duties during an appearance on The Drew Barrymore Show back in January. He explained that he and wife Julia Carey always wanted their three children - 12-year-old Max, 8-year-old Carey and 5-year-old Charlotte - to grow up in London despite spending the majority of their childhood in America.
The success of the show and, even more specifically, the popularity of the Carpool Karaoke segment that James himself developed as part of the program, actually helped make his decision to leave his post even easier as James noted that he didn't want to move away from The Late Late Show following a slump, but preferred to do so while still at the top of the ratings.
"Look it's not easy in any way to walk away from something that is so, I mean, I'll never work in a better environment than the one I work in now," James said to Drew. "Nothing about leaving the show was to do with not enjoying it. I love it but the truth is it became a very easy decision because I always knew it was an adventure and I never, ever considered it to be the final destination."
The host even got candid about an episode that happened with one of his children that convinced him it was time to move on from The Late Late Show.
"One day I was filming on a Sunday and I came downstairs, it was about 6am and my son, who was 10 at the time, was sat on the stairs and he said, 'Are you working today?' and I said, 'I am,' and he said, 'I thought, well it's Sunday,' and I said, 'I know, buddy, but this schedule's just all over the place. We just got to get it done because we only have a tiny amount of time before we have to go back and do the show,' and his face just kind of dropped," James recalled. "I got in the car and I called my wife Jules and I said, 'I've realized, best case scenario, we have six more summers where Max even remotely wants to be around us and I cannot waste another one.'"
The very last episode of The Late Late Show with James Corden aired earlier this week and, as bittersweet as the affair was, it certainly entertained fans and reminded everyone why James has been such a successful host throughout the past eight years.
The episode featured superstar Adele in her second Carpool Karaoke segment. As audience members may remember, Adele first appeared on the show back in 2016 (she's actually close friends with the Cordens!) and the clip rapidly became one of the most popular Carpool Karaoke ones on YouTube. It was only right for her to close out the program alongside her pal.
During the episode, Adele is seen unexpectedly showing up at James' house early in the morning to drive him to work on one of his last days on set. During their car ride, the friends are seen discussing their relationship and the most important moments on the show from the past eight years while singing together. The two even revealed the one Adele song that was inspired by a conversation between the artist and the host.
In his final chat with the audience, James thanked everyone involved with the success of the show while getting deep about the ways that the job has shaped his worldview and life in general.
"I sit here now today with nothing but love, gratitude, and pride. This show is everything I ever wanted," he said during his final address before delving into his thoughts about the political climate in America. "I've watched divisions grow. I've felt a sense of negativity bubble and boil over, and I implore you to remember what America signifies to the rest of the world: It has always been a place of optimism and joy. Yes, it has flaws. So many. But show me a country that doesn't. Look for the light. Look for the joy, because if you do, it's out there. And that's all this show has ever been about."
Anna Rahmanan is a New York-based writer and editor who covers culture, entertainment, food, fashion and travel news. Anna's words have appeared on Time Out New York, the Huffington Post, Fortune, Forbes, Us Weekly, Bon Appetit and Brooklyn Magazine, among other outlets.