Why do Prince George and Princess Charlotte always wear 'old-fashioned' clothes?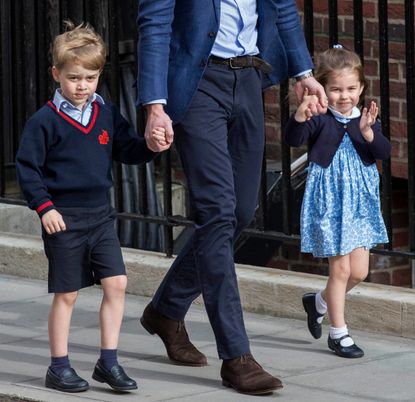 Prince George and Princess Charlotte stole the spotlight yet again recently, as they headed to St Mary's Hospital to meet their new baby brother after their mother, the Duchess of Cambridge, had given birth.
The adorable young royals - Princess Charlotte in particular - won over the hearts of the nation, as they trotted dutifully, hand-in-hand with Prince Willam, and waved to the public, outside the front doors of the Lindo Wing.
Whilst George and Charlotte's sweet smiles and waves undoubtedly drew much of the crowds attention, as well as how fast the young royals are quickly growing up, there was one thing that also proved interesting - the young siblings very traditional outfits.
Princess Charlotte dressed in a sweet, but traditional smock dress - while George kept it casual, in his Thomas' Battersea school uniform. Charlotte also wore a simple blue cardigan over her dress. The Princess' dress was actually designed by an old school friend of the Duchess of Cambridge, who runs the company Little Alice London. And of course, it's no surprise that Charlotte's fashion choices have the same effect as her mother's, as the £45 dress is now sold out!
The siblings also wore very traditional leather footwear, with ankle length-socks. The appearance only reiterated that the royal children are almost always dressed in a traditional manner.
The same was true at the most recent Trooping the Colour ceremony. Princess Charlotte was dressed in a pink smock dress that many viewers called 'dated'. Meanwhile Prince George was dressed in a traditional collared shirt with braces, shorts and his signature long socks.
"Lovely children but why are they dressed like that" questioned one social media user. "Wish their clothes were more up to date" added another.
So why do Princess Charlotte and Prince George - and now, presumably, the new royal baby, dress so traditionally?
It has been said that the Duchess of Cambridge puts her children in retro-inspired outfits for official occasions because it marks the formality of the event. In the same way that Catherine would never wear her favourite skinny blue jeans and nautical striped t-shirt to an official occasion, George and Charlotte also have their own wardrobe of clothes for royal events, separate from their day-to-day outfits.
So you won't see Prince George wearing a much-loved dinosaur Tee and durable jeans for a boistorous little boy when he's out with the Duke and Duchess of Cambridge at official engagements, such as the family's recent royal visit to Poland and Germany (above).
In fact, the families attempt to stick to tradition is so religious, that they've even taken to dressing George and Charlotte in items previously favoured by Prince Harry as a young boy!
For their trip to Poland, Catherine and William dressed Princess Charlotte in a pair of red patent shoes. Their original owner? None other than her uncle, Prince Harry, who famously wore the shoes back in 1986 for various photo opportunites alongside his father Prince Charles and mother Princess Diana. What better way to stick to tradition than to borrow from your older relatives?
Childrenswear designer Rachel Riley, who has dressed Prince George on a number of occasions, has also explained that often the choice of wardrobe for the young children is aimed at looking 'timeless' in official photographs.
"The reason why I design clothes that way is because if they wear very simple things, it's about the child, and it's timeless in that you can't really date a specific photo or put them in something that seems out of date," Riley has told The Telegraph.
Riley also highlights the fact that the Duke and Duchess of Cambridge are keen not to draw too much attention to their children than is necessary. Prince William has been very vocal about wanting George and Charlotte to be able to grow up 'outside of palace walls', and by dressing their children formally when they are in the public eye, Kate and William can help guard against their children being recognised frequently in public.
"I think they are going for clothing that is classic and timeless, rather than clothes that draw attention to them" Riley said of George and Charlotte's attire when they are in front of the cameras.
It is rumoured that when out and about in their own time with their family, at school or with their nanny, Prince George and Princess Charlotte are dressed as any other normal child their age.