Where is the White Noise movie set and how does the 2023 Ohio train derailment relate to the film?
Following events in Ohio, folks are wondering where the White Noise movie is set...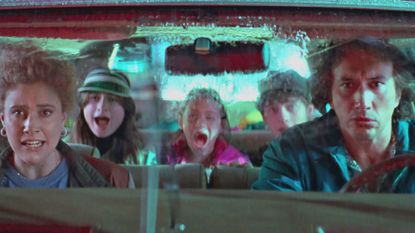 (Image credit: Netflix)
woman&home newsletter
Sign up to our free daily email for the latest royal and entertainment news, interesting opinion, expert advice on styling and beauty trends, and no-nonsense guides to the health and wellness questions you want answered.
Thank you for signing up to . You will receive a verification email shortly.
There was a problem. Please refresh the page and try again.
One of this season's biggest Netflix movies, White Noise, has a strange parallel to a traumatic event that happened in East Palestine, Ohio, a few days ago.
Folks may have seen the movie White Noise, starring Adam Driver (who can also be seen in House of Gucci) and Greta Gerwig, appear on their Netflix home screens in the past few weeks, as it reached the #1 movie on Netflix status for a few days after its release. The movie, which was met with a host of mixed reviews, follows a family who experiences multiple traumatic events in the span of the two-hour film - one of which being a trail derailment that caused toxic chemicals to invade the air in their Ohio hometown.
What's even creepier is that a train derailment actually occurred at the beginning of February 2023, just about a month after White Noise was released on Netflix - and similarly to the film, this real Ohio train derailment leaked similarly deadly chemicals into the air, putting the lives of East Palestine (not to be confused with the country Palestine, featured in the film Farha) residents in danger.
Now, we're not here to theorize any conspiracies about the rather scary parallels - however, it is quite unsettling how similar the movie and this very real event are, and we're not the only people who think so.
Ohio resident, Ben Ratner, who played an extra in White Noise, lives in East Palestine where the 2023 train derailment occurred. Similarly to the actions that had to be taken to evacuate in White Noise, Ratner had to follow these strict instructions a second time - but this time, in real life.
"Talk about art imitating life," Ratner told People (opens in new tab). "This is such a scary situation. And you can just about drive yourself crazy thinking about how uncanny the similarities are between what's happening now and in that movie."
What's even crazier is that White Noise actually was filmed fairly close to where the actual 2023 Ohio train derailment occurred at the beginning of February. According to the White Noise IMDb (opens in new tab), the movie set filming location all around Ohio, including at the University of Akron, Wellington, and Cleveland, among other Ohio locations.
In the movie, which is based on the novel of the same title by Don DeLillo, a train crash occurs, which releases a huge cloud of toxic chemicals into the air. The event in the movie is somewhat hyperbolically titled the "Airbourne Toxic Event." Folks have also compared this part of the movie to the mass hysteria that COVID-19 caused - although now, the reality of COVID-19 paralleled to the movie has some competition with the real train derailment. In real life, the 2023 Ohio train derailment saw 50 rail cars filled with chemicals and combustible materials run off the track.
Ratner told People that he can no longer watch White Noise due to the traumatizing parallels between what he experienced in real life and on set for the film. "I went and tried to watch the film a few days ago and couldn't," he said. "It wasn't something I wanted to be entertained by because, for us, it's a real-life situation."
Madeline Merinuk is woman&home's US lifestyle news writer. She covers celebrity, entertainment, fashion, and beauty news but is also obsessed with internet trends - you can find her reciting trending TikTok sounds out loud at any given time.
After winning multiple student journalism awards for her investigative work, she graduated from Hofstra University in 2021 with a B.A. in Journalism. After graduating, she worked at today.com, the digital site for the Today Show, where she wrote pop culture news and interviewed big-name personalities like Emily Ratajkowski, Haley Lu Richardson, Emma Corrin, and more.
Her personal interests, in no particular order, are: cheese, Joni Mitchell, reading, hot yoga, traveling, having multiple chapsticks in every handbag at all times, and dancing to ABBA songs as if she were in the Mamma Mia movies.