Where is The White Lotus season 3 set? Johnny Knoxville may have accidentally spoiled the news
In a new interview, Johnny Knoxville suggested The White Lotus season 3 might be heading to Asia.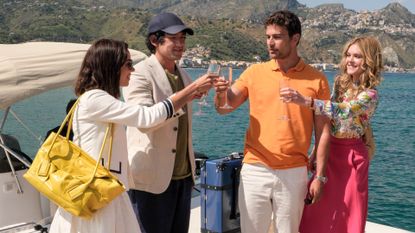 (Image credit: Copyright © 2021 Home Box Office, Inc. All rights reserved. HBO® and all related programs are the property of Home Box Office, Inc.)
Although fans are begging for any bit of news related to season 3 of The White Lotus, details surrounding the hit show's upcoming plot points have yet to be divulged - but actor Johnny Knoxville may have actually just revealed where the new episodes will be set.
In an interview with Vulture (opens in new tab), Johnny, who is a close friend of The White Lotus creator Mike White, suggested a complete change of scenery in relation to season 3.
"Mike White is a very close friend of mine," the 51-year-old actor said to the outlet. "He and I had been in Tokyo together. I think that's where the next [...] oh, I'm not giving anything away. I might call him again as soon as this is over."
The first season of the award-winning show famously took place in Hawaii while The White Lotus season 2 filming location was in Italy, so Japan would be a pretty big departure from previous sets - which seems to be exactly the point.
In fact, in the past, Mike himself has chimed in about possible set selections. In an HBO clip, he basically confirmed Asia as his current first choice.
"The first season we highlighted money and then the second season is sex," he said on camera. "And I think the third season, it would be maybe a kind of satirical and funny look at death in Eastern religion and spirituality - it feels like it could be a rich tapestry to do another round at White Lotus."
Even before that, back in October, Mike hinted at future location possibilities when musing on the fun involved in exploring different continents.
"We did Europe and maybe Asia, something crazy like that, would be fun," the creator said to Deadline (opens in new tab).
As for the cast of characters that would populate upcoming episodes, audience members may be treated to the return of a fan-favorite from season 1.
Although the show is known for featuring a whole new set of actors each season, embarking on entirely unrelated storylines from one year to the next, the great Jennifer Coolidge did appear on both seasons 1 and 2. Turns out, Connie Britton, who played businesswoman Nicole Mossbacher during the first season, was supposed to join Jennifer in future episodes but didn't.
"[White] wanted me to be in the second season, and there was an idea that I loved for the character," Connie said to Deadline (opens in new tab) this past summer. "A piece of casting didn't work in the second season and we're hoping to [do] that in the third season. I would love to see a spin-off on every character in that show."
What's more, even Michael Imperioli, who took on the role of cheating husband Dominic Di Grasso in season 2, might appear in upcoming bits.
"Who knows, maybe there'll be another White Lotus season where Dominic comes with his wife and they patch it all up!" creator Mike said to Esquire (opens in new tab) when season 2 finished airing.
"I don't want to think about it too much," Michael himself said. "Because the idea of that makes me so happy. I don't want to be disappointed […] I would want nothing more than that. I just loved working with Mike so much."
Fingers crossed that Connie and Michael will make a comeback… in Japan this time around!
Anna Rahmanan is a New York-based writer and editor who covers culture, entertainment, food, fashion and travel news. Anna's words have appeared on Time Out New York, the Huffington Post, Fortune, Forbes, Us Weekly, Bon Appetit and Brooklyn Magazine, among other outlets.