We can't stop staring at Heidi Klum's incredible silver sculptural dress
Model Heidi Klum showed up at an event in Los Angeles wearing a marvelous chrome dress and carrying a fishbowl clutch with a fake goldfish inside of it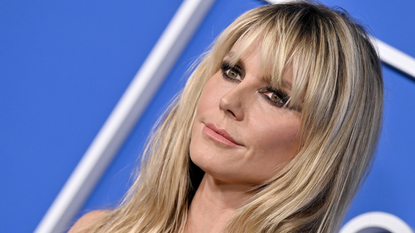 (Image credit: Axelle/Bauer-Griffin / Contributor)
Model Heidi Klum turned heads at the Fashion Trust U.S. Awards in Los Angeles earlier this week with a striking outfit that we'll be referring to for years to come.
Known for her outrageously remarkable Halloween costumes (and for marrying ex Seal 'eight times!'), Heidi showed up to the event wearing a stunning sculptural, chrome gown by Kate Barton.
The dress was made with a high-shine gray fabric that basically allowed the 49-year-old judge of America's Got Talent to shine all throughout the night, with an invisible spotlight highlighting her beautiful figure.
Heidi paired the strapless, asymmetrical dress with a belt that cinched the waistline that actually looked like it was part of the ensemble to begin with.
The model's shoe choice was on-point as well: Heidi wore a pair of silver gladiator sandals with straps that rolled around her ankles.
But it's the star's handbag that is deserving of much attention. The quirky fish bowl clutch that Heidi was carrying around all night had inside of it a fake orange gold fish that was completely visible given the accessory's see-through material. We can't stop zooming into the picture of it!
After all, if there is one celebrity that knows how to capture our attention in more ways than one, it must be Heidi.
Back in October, for example, the star posted a video of herself cutting her own bangs, a drastic haircut that oddly worked?
"I just asked my husband what his favorite hairstyle was and he said long hair with bangs...after I just grew mine out," the model said in the video she uploaded. "Let's give it a try!" She went on to film the moment and we are still flabbergasted by it all.
Another shocking Heidi revelation had to do with the reason why she got married to her ex Seal eight different times.
"I think I got married eight times to Seal," she told the Sunday Times in 2021. "I thought it would be kind of, like, fun. I thought it would be a fest of love."
Unfortunately, though, all those marriage vows didn't stick as Heidi filed for divorce from the singer in 2012 and the two officially parted ways in 2014. The good news: the former couple is still on good terms, co-parenting their three children - 18-year-old Leni (although the biological daughter of Heidi's ex, Flavio Briatore, Seal actually officially adopted her as his own in 2009), 17-year-old Henry, 16-year-old Johan and 13-year-old Lou.
Anna Rahmanan is a New York-based writer and editor who covers culture, entertainment, food, fashion and travel news. Anna's words have appeared on Time Out New York, the Huffington Post, Fortune, Forbes, Us Weekly, Bon Appetit and Brooklyn Magazine, among other outlets.