Meghan Markle reportedly wants Kate Middleton as a guest on her podcast
According to reports, Meghan is keen for Kate to guest start on the Archetypes podcast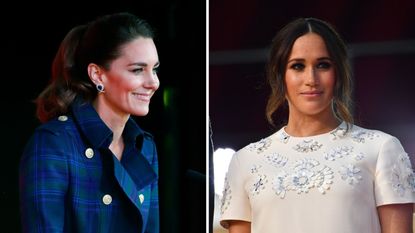 (Image credit: Getty)
Meghan Markle is keen for Kate Middleton to appear as a guest on her Archetypes podcast, according to a royal expert.
---
The Daily Express (opens in new tab) reports that, according to royal expert Neil Sean, 41-year-old Meghan asked the Princess of Wales through formal channels to consider being featured on her Spotify series.
"While [Meghan] was over here, staying in Windsor at their cottage, she put out a request to the Princess of Wales, according to that good source, to appear on a forthcoming episode of Archetypes," Neil specifically said on his own YouTube channel. "Apparently she could have the whole episode to herself, how generous, and, as ever, we have to say allegedly."
As the show's listeners know, in fact, Archetypes episodes, which seek to "explore and subvert the labels that try to hold women back," usually feature a number of guests each, so promising an entire episode to her sister-in-law seems to indicate the importance that Meghan places on the potential collaboration.
"It, kind of, makes sense if you think," Neil said on his show while discussing the potential reasoning behind Prince Harry's wife's ask. "In Meghan's eyes, this is because she based it along the idea of two Duchesses, as they then were at that point, and of course talking about how difficult it is to run a family, work-life [and] work balance."
According to the expert, the podcast host's own team thought the idea was a "good move" that would lead to increased ratings. We can't argue with that one.
Neil was also quick to mention that the Archetypes team has yet to hear back from the 40-year-old royal, who was last seen alongside the Duchess of Sussex back in September, when they joined their husbands to greet the Queen's mourners in Windsor after her passing at the age of 96.
As vastly reported back then, Meghan and Harry flew back to the US 'almost immediately' after Queen's funeral for 'poignant' reunion with Archie and Lilibet, their two kids whom they hadn't seen in a fortnight. As a result, the formerly-dubbed Fab Four - Meghan, Harry, Kate and her husband Prince William - did not spend as much time together as their fans hoped they would.
Perhaps, though, Meghan and Kate will make up for lost time while co-appearing on the Archetypes podcast in the near future.
Anna Rahmanan is a New York-based writer and editor who covers culture, entertainment, food, fashion and travel news. Anna's words have appeared on Time Out New York, the Huffington Post, Fortune, Forbes, Us Weekly, Bon Appetit and Brooklyn Magazine, among other outlets.