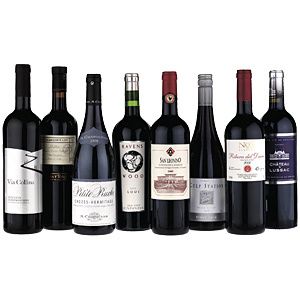 Our wine expert Tim Atkin recommends wonderful red wines for you to enjoy
2007 Via Collina Dolcetto d'Alba, Langhe (£6.99, Waitrose) Dolcetto is the most immediate of the red grapes grown in the north-west of Italy. This one is perfumed and deeply coloured, with masses of plum and black cherry fruit, and smooth tannins.
2006 Concha y Toro Winemaker's Lot Malbec, Cachapoal (£6.89, Oddbins) Concha y Toro may be Chile's biggest winery, but it's also one of the very best. Malbec is more commonly associated with Argentina, but this scented, concentrated, sweetly oaked red wouldn't look out of place on the other side of the Andes. 2006 Crozes Hermitage, Petite Ruche, Chapoutier (£7.98, Asda) Made by Michel Chapoutier, the enfant terrible of the Rhône Valley, this is a textbook unoaked Syrah from an underrated appellation. Spicy, meaty and peppery, with aromas of violets and blackberries. 2005 Ravenswood Old Vine Zinfandel, Lodi (£9.99 or £6.66 each for three, Majestic) This tastes and smells of sunshine. Not a wine for the faint of heart, this rich, perfumed, spicy Californian red is a great winter warmer, with notes of fresh tobacco, white pepper, vanilla and red fruits.
2005 Chianti Classico San Leonino, Tenimenti Angelini (£9.99, or £7.99 each for two, Majestic) Chianti Classico has improved a lot since the days of wicker baskets. Sangiovese is complemented by 5% Canaiolo, with robust tannins, refreshing acidity and strawberryish fruit. De Bortoli Gulf Station Pinot Noir, Yarra Valley (£9.99, Sainsbury's) Steve Webber is making some of the best Pinot Noirs in Australia at the moment. This is an easy drinking, well-balanced red, full of fragrant fruit.
2006 Nos Riqueza, Ribera del Duero (£9.99, Marks & Spencer) When they think of fine wine from Spain, most people pick Rioja, but neighbouring Ribera can be just as good. This is a smooth young Tempranillo with subtle oak, good red fruits concentration and refreshing acidity.
2002 Château de Lussac, Lussac St Emilion (£12.99, selected branches of Tesco) This wasn't the best recent vintage in Bordeaux, but the best wines are forward and drinkable. This Merlot-based red has chocolatey oak, fine tannins and supple, fruitcake and cassis flavours.
NB: Prices correct at the time of publication