Tom Cruise is reportedly very 'interested' in dating Shakira
We didn't see this coming... but we love it!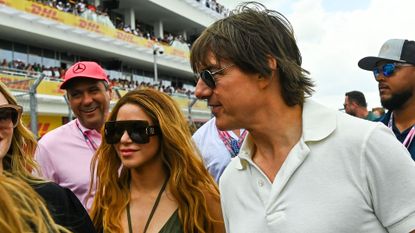 (Image credit: Getty Images)
After being seen together in public earlier this month, Tom Cruise revealed that he's very interested in dating Shakira.
About a year ago, Shakira, who recently said there's a "place in hell" for women who don't support other women, announced that her and Gerard Piqué would be getting a divorce after 12 years of being together. Now, Shakira could have a new man in her life - and it might just be the Top Gun icon, Tom Cruise.
The two A-listers were seen and photographed at the Miami Grand Prix on May 7, and were reportedly spotted leaving together to spend time together in a private suite, as reported by Page Six.
According to a source who is close to Tom, he is "extremely interested" in dating the singer. "He is extremely interested in pursuing her," the source revealed. "There is chemistry."
This news comes just a few days after Shakira received the Woman of the Year award at the Billboard Latin Women in Music Awards. "This has been a year of seismic change in my life where I've felt more than ever - and very personally - what it is to be a woman," she said while giving her acceptance speech.
She continued to allude to how her divorce changed her perspective over the last year as she progressed with her acceptance speech. "It's been a year where I've realized we women are stronger than we think, braver than we believed, more independent than we were taught to be," she said. "Because what woman hasn't, at some time in her life, forgotten herself because she's seeking the attention and love of someone else?"
Although Tom has been linked to many other A-list women throughout his career - he was married to Nicole Kidman (who recently stunned at the Met Gala) from 1990 to 2001 and with Katie Holmes from 2006 to 2012 - Shakira would be his first known relationship in a while.
Based on Shakira's acceptance speech at the Latin Women in Music gala, however, we're not so sure she's open to a relationship with the movie star.
"There comes a time in the life of every woman where she no longer depends on someone else to love and accept herself just as she is," she continued in her speech. "A time when the search for someone else is replaced by the search for oneself. A time when the desire to be perfect is replaced by the desire to be authentic, and where finding someone who is faithful is less important than being faithful to ourselves."
Madeline Merinuk is woman&home's US lifestyle news writer. She covers celebrity, entertainment, fashion, and beauty news but is also obsessed with internet trends - you can find her reciting trending TikTok sounds out loud at any given time.
After winning multiple student journalism awards for her investigative work, she graduated from Hofstra University in 2021 with a B.A. in Journalism. After graduating, she worked at today.com, the digital site for the Today Show, where she wrote pop culture news and interviewed big-name personalities like Emily Ratajkowski, Haley Lu Richardson, Emma Corrin, and more.
Her personal interests, in no particular order, are: cheese, Joni Mitchell, reading, hot yoga, traveling, having multiple chapsticks in every handbag at all times, and dancing to ABBA songs as if she were in the Mamma Mia movies.