Tik Tok star Francis Bourgeois' legendary trainspotting videos are 100 percent the best thing to come out of 2021
If you haven't watched them yet, you need to get involved!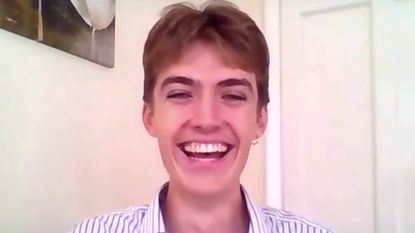 (Image credit: ITV This Morning)
Amidst the sad news, bad news and downright depressing news, once in a while something epic breaks into the stratosphere and all is well in the world once again.
For 2017 it was the cute girl in the bright yellow sweater busting in on her father's BBC news interview and the ensuing memes, interviews and fan art that followed. Meghan Markle's wedding dress was the fashion moment that stole the show back in May 2018 before Meghan and Prince Harry stepped back as senior members of the royal family last year.
As for 2019, who could forget the photo of a humble egg that became the most-liked photo on Instagram, overtaking Kylie Jenner's previous record? And, for 2020, Joe Exotic and friends became the crazy tonic we needed to counteract a weird year of stress, anxiety and pandemic madness.
But this year, aside from those inauguration photos of a mitten wearing Bernie Sanders back in January, kudos has to be given to 21-year old train spotting fanatic Francis Bourgeois who has won over TikTok and Instagram with his joy-sparking trainspotting videos—literally the best content on the whole of the internet right now.
Francis' brilliant trainspotting videos have racked up an impressive 14.3 million likes on TikTok and he's currently got well over 300,000 followers on Instagram.
Comments from his fans put into words what many of us are thinking, with one user saying, "I'm not even interested in trains but his reactions make me so happy."
While a new follower commented, "started following you yesterday and it's the best follow I have ever made. Your posts make me so happy!"
The success of his Francis' videos is in part down to his infectious laugh and *that* unique head-camera angle, but the pure happiness that radiates out of the screen as Francis views his favorite locomotives as they speed across the UK's rail network is the main draw.
This particular video is one of the most popular with over 71k views, thanks to Francis hilariously being blown over as the train passes, along with his brilliant laugh and swift sweet-eating technique as he struggles to stand up—have you ever seen anything more wholesome?
The avid trainspotter says his fascination with trains began when he used to live by Willesden Junction, one of the busiest train junctions in London, UK.
As well as making some of the best content online right now, he's also studying Mechanical Engineering at University and regularly gets recognized in the street. Francis even made an appearance on This Morning a few weeks back with Holly Willoughby declaring her love for him on live TV, and it seems the 384,000 other fans of his videos feel the same way...
Lydia is woman&home's Lifestyle News Editor and a freelance travel writer. Day-to-day she manages an international team of nine news writers and oversees all news content on woman&home.com. Her travel writing has been published in BBC Good Food, Oh magazine, Harper's Bazaar, Town&Country, ELLE, MailOnline, Woman, and woman&home.