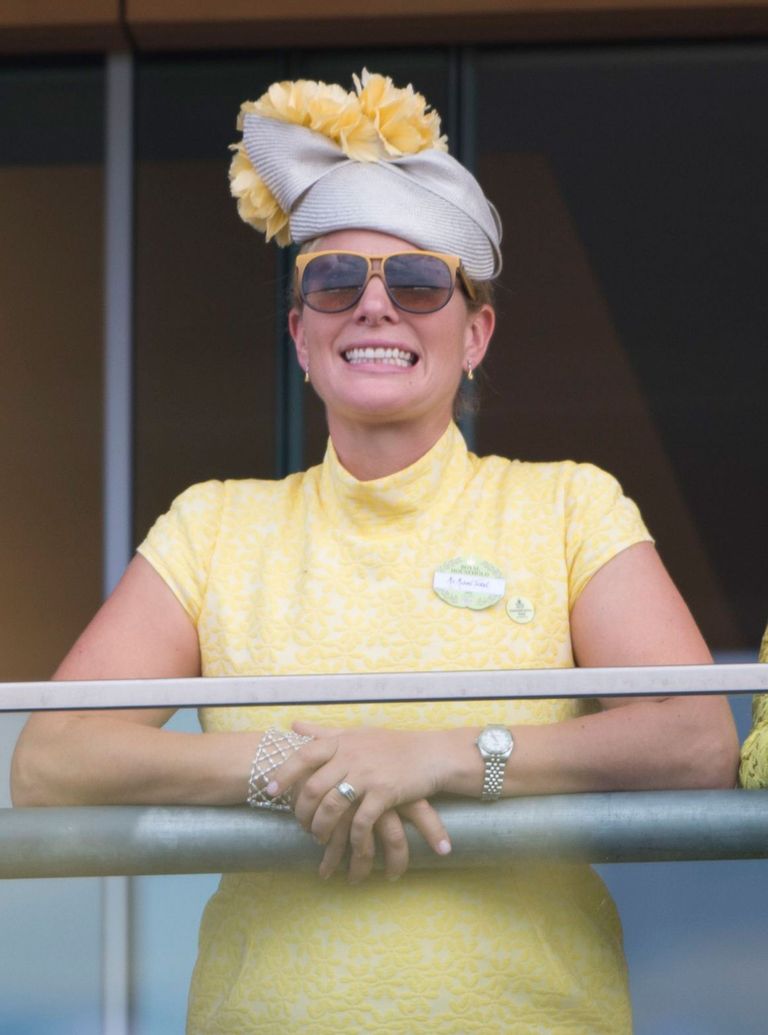 (Image credit: Rex Features (Shutterstock))
There's A New Royal Baby On The Way
Congratulations are in order for Zara and Mike Tindall as they announce that they are expecting their second child. It will be Zara, who is The Queen's granddaughter's, second child after having daughter Mia Grace back in 2014. The baby is due in spring next year and will be The Queen and Duke of Edinburgh's sixth great-grandchild.
The Royal Family Lead Tributes To The Duke Of Westminster At Memorial Service
It was a sad day for members of the Royal Family, as they said goodbye to one of their closest friends, at a memorial service for the Duke of Westminster. The Duke and Duchess of Cambridge joined Prince Charles and The Duchess of Cornwall, and other mourners, to pay their respects to the late Duke, who died earlier this year. General Geralds Cavendish Grosvenor, Britain's third richest man, was a close friend of the Royal family with his wife being a godmother to Prince William. His son, Hugh, who is Prince George's godfather, will inherit the dukedom and his estate.
Princess Beatrice's Dramatic Dinner Party And Hospital Dash
As far as bizarre news stories go this one's on the ridiculous side. Princess Beatrice found herself in hot water over the weekend after a dinner party she was hosting got out of hand, resulting in guest, Ed Sheeran having to make an impromptu trip to A&E. The young royal was dining with friends, at her home, when she decided to jokingly knight fellow singer James Blunt at his request. Fetching a ceremonial sword, the clumsy granddaughter of the Queen, accidentally sliced Ed's face while attempting to perform the knighthood. According to eyewitnesses, Beatrice swung the blade over her shoulder not realising the singer was behind her striking him in the face. Ed took himself to hospital where he had a couple of stitches to patch up the damage then returned to the party.
Prince William Releases Statement Clarifying His Stance On Meghan Markle
Following rumours that Prince William didn't approve of Prince Harry's statement regarding girlfriend Meghan Markle, the Royal has released a statement clarifying his thoughts on the matter. The Duke Of Cambridge showed his support for his younger brother stating that he, "absolutely understands the situation concerning privacy and supports the need for Prince Harry to support those closest to him." Royal Sources have said that Prince Harry would have definitely discussed the statement with his sibling before it was released and that the Duke was as alarmed about what was happening with Meghan as everyone else. They added that there was no way Prince Harry would have put out the statement had William disapproved. Earlier this month, Prince Harry was forced to speak out against the media, releasing a statement both confirming his relationship with the American actress and expressing concern about the abuse and harassment she was enduring.
Prince Harry's Red-Faced Moment
Prince Harry, who is currently undertaking a tour of the Caribbean, was left red-faced while attending a charity event. During the evening, a reluctant Prince Harry was dragged up to dance by the evening's singer, Claudette Peters, who ignored his pleas to stay seated. The embarrassment continued when the Prime Minister of Antigua and Barbuda, Gaston Browne, referenced his budding relationship with Meghan Markle, inviting the Prince to honeymoon there. The PM then changed tack, introducing Harry to a group of pretty models and dancers and informing him that, "Whatever is done here, stays here. So don't worry." Harry is undertaking the 15 day tour on behalf of his grandma The Queen.
Prince William Opens Up About Family Life In TV Interview
On his first official visit to Vietnam, Prince William made a TV appearance on Talk Vietnam for a one-on-one interview. He spoke about how he hoped three-year-old George and one-year-old Charlotte would grow up "treating others as they would like to be treated."
He also admitted to having "struggled at times" with parenthood, but praised the Duchess of Cambridge for her support and for being an "amazing mother" to their children and a "fantastic wife".
Speaking openly about parenthood on Talk Vietman, he said "Well, as the other parents in the room will testify, there's wonderful highs and there's wonderful lows."
"I've struggled at times - the alteration from being a single, independent man to going into marriage and then having children is life-changing." He continued, "I adore my children very much and I've learned a lot about myself and about a family, just from having my own children - and it's amazing how much you pick up from just in those moments."
Prince William spoke about wanting to raise his children with an awareness of the world around them and teach them about the importance of a non-materialistc lifestyle.
He said, "I think there's a lot of huge aspirations and people living with an enormous amount of stuff that they don't necessarily need. The materialism of the world I find quite tricky sometimes." He continued, "I would like George and Charlotte to grow up being a little bit more simple in their approach and their outlook."
He said that having Charlotte added a new energy to the family.
"Bearing in mind I've never had a sister, so having a daughter is a very different dynamic. So I'm learning about having a daughter and having a girl in the family." Prince William added that George was a bit of a "rascal" but also a very "sweet boy" who keeps the family on their toes.
Buckingham Palace Set To Be Faced With £370 Million Repair Bill
It has been revealed that Buckingham Palace is set to go through 10 years of 'essential' repairs and maintenance work that will cost a total of £370 million. According to the announcement, the work will see the sovereign grant, which is covered by money brought in from The Queen's estate, increase by 66% over the period.
The major refit, which has been described as 'absolutely necessary', will see cables, pipes and wiring replaced and a new boiler fitted - the first in more than 60 years. Officials have said that without the work, there is risk of serious damage to the palace itself, as well as items it houses; there's a risk of fire or water damage, among other problems.
Tony Johnstone-Burt, master of the Queen's household, said, "Buckingham Palace is one of the most iconic buildings in the world, and this programme is designed to extend its working life by a further 50 years. On completion of the work, we'll have a palace fit for purpose until 2067." It is thought that The Queen will still use the palace as her official residence whilst the work is taking place.
Prince Harry Poised To Pay For Police Protection For His Girlfriend
Following Prince Harry's unpresidented warning to the press over their treatment of his new girlfriend, Meghan Markle. It has revealed that the Prince looks set to take her protection into his own hands. Senior sources have said that, the young Royal has enquired about paying for her to be guarded by a retired Scotland Yard Personal Protection Officer, out of his own money. Meghan, is said to think the move is unneccissary, but following the death of his mother, who was being chased by paparazzi at the time, the 5th in line to the throne is said to not want to leave it to chance.