This spectacular moment from Adele's Las Vegas residency has everyone in awe
Adele's Las Vegas residency has finally kicked off, after the superstar singer delayed the show by months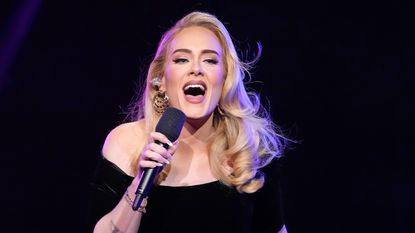 (Image credit: Kevin Mazur/Getty Images for AD)
Adele is finally saying Hello to fans at her Las Vegas show, nearly ten months after she tearfully had to postpone the residency.
The British superstar thanked fans for "coming back" to her on the opening night of her delayed Las Vegas residency as she kicked off her residency on Friday night.
And her fans were equally as thankful to the Someone Like You singer. Adele received a standing ovation when she walked on stage at Caesars Palace, and she described the show as "just perfect".
In an emotional speech, she walked onto the iconic stage – which has been home to the likes of Celine Dion and Shania Twain – and said "Thank you so much for coming back to me. It looks just like I imagined it would, it's just perfect."
In classic Adele humor, she also asked fans to be patient with her as she "might be a bit wobbly at times."
After belting through her hits, it's actually the show's finale which has had fans in awe and disbelief the most.
Though she's most famous for singing Hello, it turns out the superstar knows how to carry out a dramatic goodbye, too.
Following her last song - Love Is a Game from her most recent album, 30 – a huge vertical column of pink confetti cascaded down, completely obscuring her body.
When the confetti clears just seconds later, Adele is gone, seemingly vanishing into thin air.
Las Vegas is known for magic shows like Penn and Teller, so perhaps she was inspired to add some elements to her own show.
Fans, predictably, have gone wild for the showbiz spectacle.
"When Adele disappeared into the burst of heart confetti I cried a bit. You really did that babes!" One fan on Twitter wrote. "Singing your ass off AND a magic show as the finale??? You're taking it!!![sic]"
Other comments have called the moment "epic", "absolutely amazing" and "magical."
The elaborate stunt is probably an indication as to why she initially postponed the shows.
Adele announced that she was postponing the residency just days before it was due to begin in January.
Sharing the news with a tearful video online, she explained that the lingering impact of Covid was behind the delay, leaving her with "limited manpower."
She said, "Half my team, half my crew are down with Covid and it's been impossible to finish the show. I'm so upset and I'm really embarrassed and I'm so sorry to everyone that's travelled again. I'm really, really sorry."
Some things are worth the wait, if the reaction to her first shows are anything to go by.
Her residency, Weekends With Adele, will run for 32 dates until March 25, 2023 at The Colosseum at Caesars Palace in Las Vegas.
Jack Slater is not the Last Action Hero, but that's what comes up first when you Google him. Preferring a much more sedentary life, Jack gets his thrills by covering news, entertainment, celebrity, film and culture for woman&home, and other digital publications.
Having written for various print and online publications—ranging from national syndicates to niche magazines—Jack has written about nearly everything there is to write about, covering LGBTQ+ news, celebrity features, TV and film scoops, reviewing the latest theatre shows lighting up London's West End and the most pressing of SEO based stories.