This one exercise ages your face faster, according to a plastic surgeon
This universal exercise might be doing more harm than good if done too much...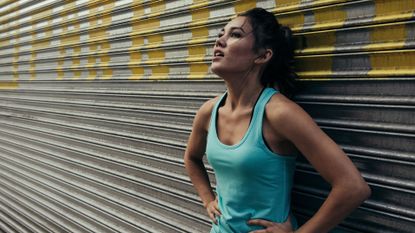 (Image credit: Getty Images)
Exercising, of course, is good for you - but according to experts, one specific type of exercise, when done too much, can make your face age faster.
TikTok teaches us a lot of things - for instance, eating oranges in the shower can be beneficial for your mental health (who knew?) One thing we never expected to learn through TikTok, though, is that this very common form of cardio can actually make our faces age faster.
Dr. Gerald Imber, a plastic surgeon from New York, recently took to his TikTok to reveal his findings. "Have you ever seen a long-distance runner, long-time runner that didn't have a gaunt, old face?" he asks his audience in a video. He calls this his "pet peeve."
"Your knees go, your ankles go, your back goes and it's kind of dumb," he says, referencing a form of cardio many people rely on - running.
Obviously, this isn't the news we want to hear especially if you've also been wondering 'should I run everyday?'
Running is the fairly easy cardio exercise many of us rely on, with the universal hope that exercising will keep us looking and feeling healthier for longer. "Half my patients love me for it and half my patients hate me for it," he says in the TikTok, referring to his running advice.
Many refer to this face-aging phenomenon as "runner's face."
Dr. Imber uses the example of two characters in a rom-com running toward each other, and noticing how their cheeks move up and down as the camera focuses in on their faces. "If you take a look at any slow-motion film or a romantic comedy of two people running towards one another, you see their cheeks going up and down, up and down," Dr. Imber told TODAY (opens in new tab). And yes, it's possible even if you're wearing the best running shoes.
He continued to explain why this occurs in our faces when we run specifically. "Every single time your heel pounds on the ground, it pulls a little bit on the collagen and elastic tissue. That is essentially the reality of the loss of elasticity," he said. "It's an undeniable fact because you can see it move. It's also unquantifiable because nobody wants to take biopsies every two weeks of their cheeks."
There are other factors that can contribute to "runner's face"
It stands to reason, however, that there are lots of other factors related to running that could cause "runner's face."
Nina Prisk (opens in new tab) of Update Aesthetics is a leading aesthetics expert, and spoke to woman&home about what else could be causing your face to age when running.
One thing that could also contribute to the issue of "runner's face," especially if you run outdoors, is sun damage, Nina tells us. "Running outside can expose the face to sun damage. It's known that the sun's harmful UV rays can pose risks such as skin cancer," she mentions. "They can also damage the skin's natural collagen production. Collagen and elastin are structural proteins that give skin their elasticity so if this is affected then the skin can sag and wrinkle more prematurely."
Nina also said that the effects could be worse if you lack facial volume already and it can become more pronounced with more extreme exercise. "A depletion in fat around the buccal area can cause a person's face to appear sucked in or gaunt, which can be incredibly ageing," she said.
One thing you can do, however, is try more low-impact exercises, like yoga, cycling, or even something like an elliptical machine if you still want to get some cardio in. Additionally, Nina tells us that ensuring you're using sunscreen, hydrating, and giving your body proper nutrition can all help prevent "runner's face" too.
Madeline Merinuk is woman&home's US lifestyle news writer. She covers celebrity, entertainment, fashion, and beauty news but is also obsessed with internet trends - you can find her reciting trending TikTok sounds out loud at any given time.
After winning multiple student journalism awards for her investigative work, she graduated from Hofstra University in 2021 with a B.A. in Journalism. After graduating, she worked at today.com, the digital site for the Today Show, where she wrote pop culture news and interviewed big-name personalities like Emily Ratajkowski, Haley Lu Richardson, Emma Corrin, and more.
Her personal interests, in no particular order, are: cheese, Joni Mitchell, reading, hot yoga, traveling, having multiple chapsticks in every handbag at all times, and dancing to ABBA songs as if she were in the Mamma Mia movies.