This Morning viewers outraged as travel expert issues 'dangerous' advice on how to avoid quarantine
Viewers were furious!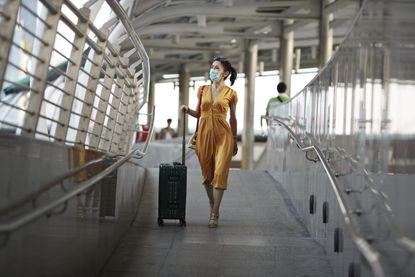 (Image credit: Getty Images)
This Morning viewers were left mortified by a segment on today's episode of the ITV chat show in which travel expert Simon Calder issued 'irresponsible' advice on how to avoid quarantining after a holiday.
Over the weekend, Spain was added to the UK's coronavirus travel blacklist, meaning holiday makers will have to quarantine for two weeks after visiting the country.
This Morning hosts Ruth Langsford and Eamonn Holmes were joined by Simon, who left viewers baffled when he revealed a loophole that could mean people travelling from Spain are able to avoid the 14 day self-isolation period.
When a guest caller asked about a possibility of reducing the quarantine time after returning from Barcelona, Simon said, "The only way to reduce two weeks of quarantine you have to serve when returning here [the UK] is to, believe it or not, leave the country again. To go to France, to Italy, or to anywhere else you like.
"They can, if they want to, leave their homes, catch the train to the airport and get on a flight to somewhere else," he added.
Presenter Ruth quickly stepped in to retract Simon's comments, urging travellers to comply with government advice to quarantine for 14 days at one address upon return to the UK from countries like Spain and Portugal.
Meanwhile, a wave of angry This Morning viewers took to social media to criticise Simon's advice, branding it 'dangerous' and 'irresponsible'.
'I am appalled that@thismorningare spreading advice about how to avoid the 2 week quarantine rule after returning from Spain. THIS IS HOW THE VIRUS SPREADS. STOP SPREADING THIS INFORMATION!!!!!!!!!!#thismorning,' one posted on Twitter.
'So irresponsible of #ThisMorning to be actively sharing ways to tale advantage of the guideline loopholes,' agreed another.
'Absolutely appalled with This Morning today basically promoting skivving the quarantine #thismorning,' a third added, while a fourth angry viewers chipped in to write, 'This f**king idiot on#ThisMorningtelling people to go to France or through France upon leaving Spain to avoid the mandatory 14 day quarantine. No. Come home and quarantine. We shouldn't be looking for loopholes!'
'Hey,@thismorning Don't invite Simon Calder back, he's a danger to public health and encourages people to spread coronavirus across Europe. A deeply irresponsible man,' one more furious Tweeter slammed.