The Tower season 2 ending explained and will there be a season 3 of the hard-hitting ITV drama after the intense finale?
The Tower season 2 ending uncovered several horrifying truths and saw DS Sarah Collins, PC Lizzie Adama and their colleagues pushed to the limit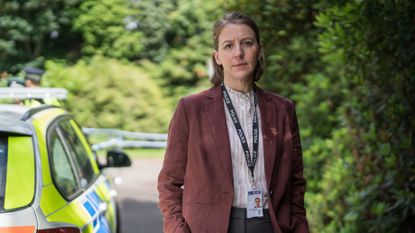 (Image credit: Mammoth Screen for ITV)
woman&home newsletter
Sign up to our free daily email for the latest royal and entertainment news, interesting opinion, expert advice on styling and beauty trends, and no-nonsense guides to the health and wellness questions you want answered.
Thank you for signing up to Woman & Home. You will receive a verification email shortly.
There was a problem. Please refresh the page and try again.
The Tower season 2 ending rounded off this heart-wrenching second series with some incredible performances and disturbing revelations.
ITV's The Tower season 1 soon drew crime drama fans in with its powerful storylines and two years later The Tower II: Death Message has delivered another intense season. Both were inspired by Kate London's book series and adapted by screenwriter Patrick Harbinson and The Tower season 2 focused on two separate cases. Whilst DS Sarah Collins delved into a traumatic cold case from 1997, PC Lizzie Adama was embroiled in a modern case of brutal domestic violence and murder. Here we explain The Tower season 2 ending and how it resolved these two plotlines - as well as whether or not there'll be The Tower season 3…
Warning: This article contains references to sexual violence, domestic violence and murder which some readers might find upsetting. This article also contains spoilers for The Tower season 2 ending.
The Tower season 2 ending explained: Who killed Tania?
The Tower season 2 ending had two cases to draw to a conclusion, including DS Collins' investigation into the disappearance of teenager Tania Mills 25 years ago. After growing suspicious about the memorial garden for Princess Diana that had been put together by Tania's music teacher Adrian Stephenson, Sarah was proved right. Tania's body was found there and the determined detective remained utterly convinced that Stephenson was responsible.
Throughout the course of the investigation, Sarah had spoken to Tania's close friend from back then, Katherine. It emerged that Stephenson had been grooming teenage girls he taught music to, buying them alcohol and sexually abusing them.
He'd done this to both Tania and Katherine and Sarah later discovered that his former wife Abigail had been just 17 when they'd married. Putting the pieces of Tania's final day together, Sarah heard from Katherine how Tania had turned up to her house when she was there with Stephenson. Having seen his car outside, Tania had known exactly who'd been at her friend's home and later went round to Stephenson's own house.
There she met Abigail who'd been drinking and who argued with Tania and had pushed her down the stairs. Abigail admitted to Sarah that she'd panicked, felt no pulse and heard a crack that she thought must've been Tania's neck. She'd carried on drinking and passed out, only for her husband to be there when she woke up.
He'd told her that he'd "saved" her by disposing of Tania's body in a carpet from their home. After being so sure Stephenson killed Tania, Sarah was thrown when Abigail confessed but her colleague Steve seemed dubious about Abigail's account. It was then in The Tower season 2 ending that Sarah asked the pathologist if she could confirm how Tania died and that she'd sustained a neck injury.
The pathologist said she'd found no evidence of a neck injury but that the sound Abigail heard could've been Tania's ankle breaking as she'd found a fracture there. She also found that Tania's hyoid bone had been fractured, suggesting she'd been strangled. Convinced that Abigail didn't do it, Sarah deduced that Stephenson had actually killed Tania after all when he'd come home and found her there. He'd spent the next 25 years letting Abigail believe she'd been responsible.
Confronted by the police and the testimony of Katherine and Abigail, Stephenson continued to deny the accusations of abuse and murder against him.
"It's only the lazy and the talentless who try to slander me. You're just the latest in line," he callously told Sarah who then told him the jury would see through his denials and know exactly what kind of man he was and the horrific crimes he'd committed. With Stephenson arrested, this particularly heart-wrenching plotline in The Tower II: Death Message drew to a close, though it wasn't the only devastating storyline.
What happened to Lizzie and did she find Skye?
Alongside DS Collins' delving into the past to get justice for Tania Mills, the killing of Georgina Teel was another primary plotline of The Tower II: Death Message. Georgina's partner Mark had committed atrocious acts of domestic violence against her and killed her. He'd then disappeared with their daughter Skye and in another terrifying twist he'd begun keeping tabs on PC Lizzie Adama's location. Mark had placed a tracking device on her car and he went on to break into her home with Skye to lie in wait for Lizzie.
Having spent the night with colleague Kieran, Lizzie was unaware of this until she was contacted by her fellow police officers the next day when she was driving home. Noticing Skye through the window, Lizzie tried to help her escape but Mark caught them. After attacking Lizzie's dog and a lot of negotiating, Mark is persuaded by Lizzie to let her into her home to get Skye.
This already dangerous situation becomes violent and after a fight, Lizzie stabbed Mark with a pair of scissors and he stabbed her. Thankfully at this point Sarah arrived on the scene with back-up and Lizzie was rushed to hospital, Skye was saved and Mark was arrested. Skye's grandmother Cathy later visited Lizzie to thank her and Sarah praised the PC for her bravery though gently reminded her that "systems are in place" for "a reason", namely the police officer's safety. Lizzie affirmed that she would act in the same way again if it would help to save a child.
Discussing the focus of The Tower season 2, Sarah's actor Gemma Whelan previously told RadioTimes.com that the heart-wrenching ITV drama and the books it's based on "really capture the zeitgeist" and how much she thinks that's important.
"It's great to be part of that representation of these stories about women and the crimes against women," she said, before reflecting, "Over lockdown, the terrible domestic violence that was far more front and centre, even though we know it goes on. The movement is slow and there's much to do, but it's nice to be seen to represent that somehow."
Will there be a The Tower season 3?
Whilst we await news of a World on Fire season 3 and about the future of other hit shows, ITV have already confirmed there will be a The Tower season 3. Following on from The Tower and The Tower II: Death Message, the third season is reportedly set to be called The Tower III: Gallowstree Lane. As per RadioTimes.com, it will once again be based upon Kate London's novels and more specifically the third instalment with the same name. It will also be adapted for screen again by Patrick Harbinson who's teased that The Tower season 3 will be a "real thriller".
"Sarah and Lizzie have heartbreaking storylines and the whole business of Farah Mehenni's phone, the tower, the reason I called it The Tower – what happened there does reverberate right the way through every character's life," he said. "A lot of these threads are beginning to come together, rather devastatingly. It's a real thriller, season 3. It's an exciting story – many, many good things. So we're delighted. I think everyone will enjoy it."
Meanwhile, Gemma explained to RadioTimes.com ahead of the second season landing that in her view The Tower season 3 could see the "seeds" planted in season 2 being taken further in a "considered" way.
She shared, "As for Sarah, perhaps her romantic life is explored further and how that plays out against her police work and how she tries to find a work-life balance. As Patrick is incredible at doing, he weaves all of our storylines together so that there's quite the denouement in episode 4."
"I don't want to say 'more of the same', but a very considered and brilliant continuation of the seeds we'd planted in season 2 and lots of twists and turns," Gemma added.
It's not yet known when The Tower season 3 will air, though all the main cast members including Gemma Whelan and Tahirah Sharif who plays Lizzie will be back. Until then fans will just have to re-watch The Tower and The Tower II: Death Message.
If you or someone you know finds themselves in need of support or someone to talk to in a safe space, you can reach out to Rape Crisis England & Wales by calling 0808 500 2222 for free or visiting their website or reach out to Refuge by calling 0808 2000 247 for free or by visiting their website.
Sign up to our free daily email for the latest royal and entertainment news, interesting opinion, expert advice on styling and beauty trends, and no-nonsense guides to the health and wellness questions you want answered.
Emma is a Royal Editor with seven years of experience working in digital publishing. Her specialist areas including literature, the British Royal Family and knowing all there is to know about the latest TV shows on the BBC, ITV, Channel 4 and every streaming service out there. When she's not writing about the next unmissable show to add to your to-watch list or delving into royal protocol, you can find Emma cooking and watching yet more crime dramas.