The steamy link between Bridgerton and Grey's Anatomy
Your favorite shows have this interesting link when it comes to intimate scenes…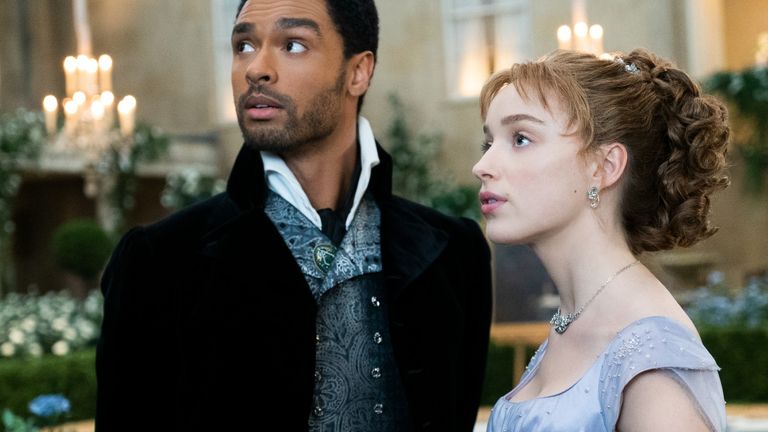 (Image credit: Netflix)
Your favorite shows, Bridgerton and Grey's Anatomy, have a fascinating common link that is particularly relevant to the steamy scenes in the show.
In an interview with Refinery 29, director Julie Anne Robinson, who directed episodes of Bridgeton and Grey's Anatomy, noted the similar ways that she shot the intimate scenes of both shows.
Julie Anne Robinson directed "Beat Your Heart Out," episode 14 in Season five of Grey's Anatomy and two of Bridgerton's sexiest episodes, the series premiere "Diamond of the First Water" and "Swish." The sixth episode in Bridgerton, "Swish," famously features the honeymoon scenes of the Duke and Daphne's marriage - basically a huge amount of sex-scenes set to an orchestral version of Taylor Swift's Wildest Dreams.
Read more from woman&home:
• Best pillow for a comfortable, pain-free night's sleep
• Best scented candles for a warm and cozy home this winter
• Best kindles for digital book lovers - we help you decide which one to buy
In the fifth episode of Grey's Anatomy, Cristina Yang and Meredith Grey discuss Meredith's late mother's diaries that document her affair with Richard Webber. Cristina states, "It's kind of, um, hot, actually. But like, chastely hot. It's all stolen glances and loaded exchanges. The thing reads like a Victorian romance novel."
As Cristina walks away, Owen Hunt walks beside her, and the shot closes in on their hands touching - but not quite. The music becomes very melancholy and sounds like something from Pride and Prejudice. As Owen changes direction, he gently brushes his hand across Christina's and walks away. The exchange only lasts a few seconds, but the somber contemplative music and wordless exchange draw immediate parallels with Bridgerton's intimate scenes between Daphne and the Duke.
Bridgerton's third episode titled, "Art of the Swoon," features a scene where the Daphne and the Duke look at paintings and gingerly holds hands in a moment of wordless intimacy.
Julie told Refinery 29 that both shows stem from the very "baroque" notion of "the love that cannot speak." She continued to say, "There was an element of ['Beat Your Heart Out'] not taking itself too seriously - of playing up the romantic tropes early on in the episode. That was also something that we tried to do with Bridgerton, which was to be a little bit self-referential," she said.
Julie also spoke about how nudity was an important trope in both shows. She spoke about the importance of Owen being shirtless in a scene with Cristina. "The reason it was written like that was because he was made vulnerable at that moment in front of [Cristina]. You realize that it's never gratuitous. That's the thing that we were really working hard to do on Bridgerton, to never put the actors in an uncomfortable position," she said.
She continued to say that it was important for her to ensure that every cast member was perfectly lit while shooting intimate scenes."I learned this from Grey's Anatomy: To light the men as beautifully as the women," she said."To be really careful about how you shoot people. That was something I was really aware of while I was shooting Bridgerton."