The important R Kelly documentaries to watch following his guilty verdict
R Kelly was convicted of sex trafficking and racketeering on Monday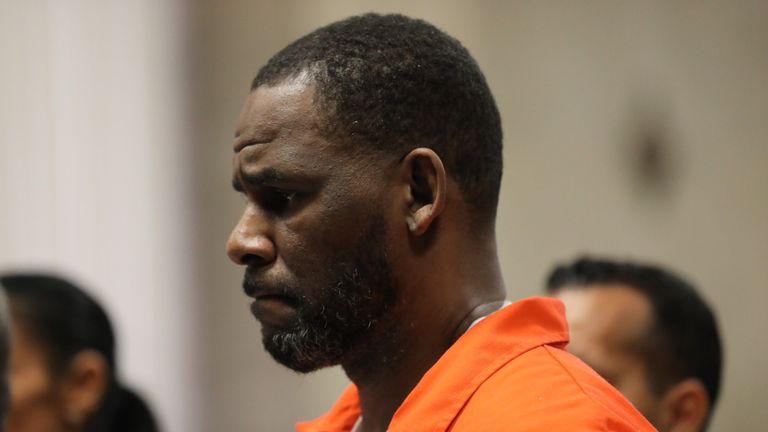 (Image credit: Getty)
By Emma Dooney
R. Kelly has been convicted of sex trafficking and racketeering in New York, after decades of abusing young women and girls in his inner circle.
The disgraced US musician, born Robert Sylvester Kelly, was found guilty by jurors in a Brooklyn court of nine counts of sex trafficking and racketeering on Monday. The charges cover a number of grave crimes, including kidnapping and forced labor. Prosecutors accused Kelly of exploiting his fame to prey on women and minors before luring them into his world, where he would subject them to ongoing psychological, physical, and sexual abuse.
The 54-year-old convicted sex offender, now facing life in prison, will be sentenced in May 2022.
For those who haven't been following the harrowing case in-depth, a number of eye-opening documentaries on the story are available to watch online.
---
The BBC released R. Kelly: Sex, Girls, and Videotapes in 2017, one year before airing its follow-up documentary, R. Kelly: The Sex Scandal Continues. Surviving R. Kelly is arguably the most famous TV series to address the allegations, premiering on Lifetime in 2019 to 1.9m people and earning widespread acclaim from both critics and viewers. The six-part documentary was so successful that a second season, Surviving R. Kelly Part II: The Reckoning, was released in January 2020.
As you can expect, these documentaries feature sensitive and potentially triggering content—so please, watch with care.
R. Kelly: Sex, Girls, and Videotapes
Having premiered on the BBC in 2017, R. Kelly: Sex, Girls, and Videotapes was one of the first documentaries to investigate the sexual abuse allegations that had tainted the R&B singer's reputation since the 1990s. The 55-minute long program sees UK reporter Benjamin Zand speak to a number of people who had both personal and professional experience with the convicted singer, including Kitti Jones, his ex-girlfriend of two years.
Jones, who lodged sexual abuse claims against Kelly in 2017, accused him of "grooming" her to become one of the "pets" in his "sex dungeon". She also claimed he dictated her wardrobe, forbidding her from wearing "fitted" clothing and forcing her to wear sweatpants instead.
WATCH: R Kelly's former girlfriend Kitti Jones shares with @BenjaminZand her experiences of abuse and grooming during their relationship. R Kelly: Sex, Girls & Videotapes is available on @BBCThree now https://t.co/KebXU8q2mc pic.twitter.com/G2C1xHJdUXMarch 28, 2018
See more
James Lee, R Kelly's former sound engineer, was also interviewed for the documentary. The studio artist, who worked with Kelly on his album in the late '90s, said he once saw the musician instruct women to pose in their underwear in the recording studio to "inspire" him.
R. Kelly: The Sex Scandal Continues
Benjamin Zand returns with a follow-up to R. Kelly: Sex, Girls and Videotapes, with his 2018 documentary R. Kelly: The Sex Scandal Continues. In this 32-minute-long sequel, Ben heads to the US to explore the mounting allegations against R Kelly. He meets the parents of Joycelyn Savage, who alleged R. Kelly was holding their daughter against her will, as well as the woman who claimed that R. Kelly gave her an STD.
Surviving R. Kelly
Perhaps the most talked-about documentary to be made on the story, Surviving R. Kelly (2019) digs deep into the Chicago musician's history as both an artist and an abuser. The six-part series features interviews with more than 50 people who claimed Kelly had abused them, including his ex-wife Drea Lee and former lovers Lisa Van Allen and Asante McGee.
The hard-hitting documentary, which aired just one month before Kelly was charged with 10 counts of aggravated criminal sexual abuse, prompted RCA Records, the singer's final label, to officially cut ties with him.
In 2020, a follow-up documentary, Surviving R. Kelly Part II: The Reckoning, premiered on Lifetime.
Emma is a news writer for woman&home and My Imperfect Life. She covers the Royal Family and the entertainment world, as well as the occasional health or lifestyle story. When she's not reporting on the British monarchy and A-list celebs, you can find her whipping up vegan treats and running the roads to cheesy '90s pop music...but not at the same time, obviously.