The iconic Hollywood sign is temporarily transforming into something different to honor Super Bowl winners
The Hollywood sign will read "Rams House" through tomorrow to celebrate the team's Super Bowl win for a few days this week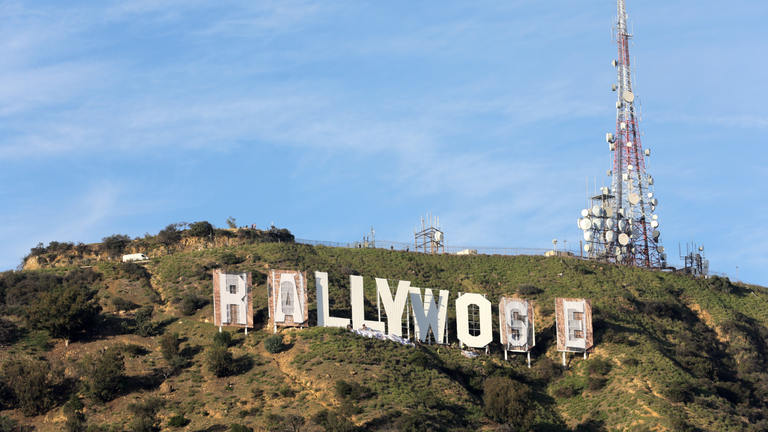 (Image credit: Kevin Winter / Staff)
This might excite the Los Angeles Rams even more than their recent Super Bowl win did. The iconic Hollywood sign is undergoing a temporary makeover in celebration of the football champions—the landmark will soon read "Rams House."
The Rams took home the prestigious win at Sunday night's Super Bowl, which was attended by Prince Harry and Princess Eugenie (an outing that has royal fans confused). They played against the Cincinnati Bengals and won 23 to 20.
The Hollywood landmark is currently undergoing the revamping and will stay tweaked through Wednesday of this week.
"What a day in Los Angeles, the Rams are Super Bowl Champions," Los Angeles Mayor Eric Garcetti said earlier this week. "This town has the best teams and fans in the world and we can't wait to show off our L.A. pride with a display that only Hollywood could deliver. Go Rams."
---
Crews started working on the transformation yesterday and the changes are actually being streamed on a webcam right now.
"Winning a Super Bowl for Los Angeles and our fans in our home stadium is a dream come true," said Kevin Demoff, the Los Angeles Rams chief operating officer, in an official statement. "We are grateful to the city, the Hollywood Chamber of Commerce and the Hollywood Sign Trust to allow us to recognize this historic championship by turning the iconic Hollywood sign into a celebration of our fans and our community."
BREAKING: The Famous Hollywood sign will be transformed into "Rams House" during this week. This is not a joke, this will happen pic.twitter.com/HnDElHszt2February 14, 2022
See more
The city certainly has reason to rejoice as it has become the only town in 50 years to have all three of its major sports teams win their own championships within 18 months of each other. In addition to the Rams' football win, the Dodgers just won the Major League Baseball season and the Lakers won the NBA playoffs in 2020.
The Hollywood sign metamorphosis isn't the only way Los Angelenos are expected to celebrate. The city of Los Angeles is apparently in talks of organizing a Rams victory parade some time this week (no official details have yet been released). Although similar plans were under way following the Dodgers' and the Lakers' respective wins, officials eventually decided to cancel both parades citing COVID-19-related concerns.
Here's to hoping that won't be the case this time around.
Anna Rahmanan is a New York-based writer and editor who covers news, entertainment, lifestyle, culture, food, travel and more. Read more of her work at annabenyehuda.com.