The Harry Potter 20th anniversary reunion teaser will give you all the chills
The Harry Potter gang is back on Platform 9 ¾ for an upcoming reunion special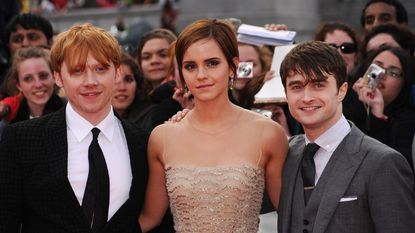 (Image credit: Ian Gavan / Getty Images)
The first teaser for the much-anticipated Harry Potter 20th anniversary reunion special, set to air on HBO Max on January 1, is here and it's already causing a ruckus on the Internet.
The retrospective special is dubbed Harry Potter 20th Anniversary: Return to Hogwarts and, although JK Rowling will likely not appear in it, fans from all over the world seem to be extremely joyous about the television event, feeling pangs of excited nostalgia.
The teaser for the retrospective was released during the latest episode of Harry Potter: Hogwarts Tournament of Houses. The TBS and Cartoon Network show, hosted by Academy Award-winning actress Helen Mirren, is basically a trivia event about the wizarding world created decades ago by JK Rowling. Special guests also make unexpected surprises.
The trailer features long-time favorites Matthew Lewis (Neville) and Robbie Coltrane (Hagrid) receiving an owl invitation and boarding a train to Hogwarts at the infamous Platform 9 3/4.
A list of participating cast members closes off the clip. The main trio of protagonists will, of course, be back (Daniel Radcliffe, Rupert Grint and Emma Watson), but fans can also expect the following actors to be part of the reunion special: Helena Bonham Carter (Bellatrix Lestrange), Ralph Fiennes (Lord Voldemort!), Jason Isaacs (Lucius Malfoy), Gary Oldman (Sirius Black), Imelda Staunton (Dolores Umbridge), Tom Felton (Draco Malfoy), James Phelps (Fred Weasley), Oliver Phelps (George Weasley), Mark Williams (Arthur Weasley), Bonnie Wright (Ginny Weasley), Alfred Enoch (Dean Thomas), Evanna Lynch (Luna Lovegood) and Ian Hart (Professor Quirrell).
In addition to being the first time most of the cast has been back together since wrapping up the filming of the franchise over 10 years ago, the reunion is a special one because it will feature never-before-revealed details about the production, exclusive in-depth interviews, behind-the-scenes moments and more.
Clearly missing from the lineup is the author of the uber-successful Harry Potter books, JK Rowling. Although it is all speculation at the moment, word on the street is that the writer might be making an appearance in old video footage from the set but not be part of any newly-filmed conversations, likely given the controversy surrounding JK at the moment.
Last year, following public statements she made against transgendered people, she was labeled a TERF (trans-exclusionary radical feminist) and cast members felt obligated to release statements in support of the transgender community.
Whether she is invited to return or not will clearly be the subject of conversation in the weeks leading up to the airing of the special in early 2022.
Anna Rahmanan is a New York-based writer and editor who covers culture, entertainment, food, fashion and travel news. Anna's words have appeared on Time Out New York, the Huffington Post, Fortune, Forbes, Us Weekly, Bon Appetit and Brooklyn Magazine, among other outlets.