Exciting news for fans of The Crown was just announced
Big news about series five!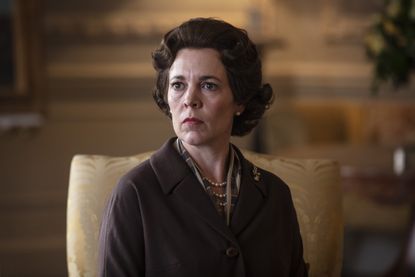 (Image credit: Netflix)
Exciting news for fans of The Crown has been announced.
With the Netflix smash hit set to return with its fourth series soon (opens in new tab), plans are starting to be made for the fifth and final series.
Earlier this year, creators of the award winning drama, based on the life and reign of Queen Elizabeth II (opens in new tab), confirmed that Downton Abbey actress Imelda Staunton will take over from Olivia Colman to play the monarch for the final season.
Now, it has been revealed that Lesley Manville will take over from Helena Bonham Carter to play the role of the glamorously rebellious Princess Margaret.
READ MORE:Do the royals ever actually watch The Crown? Here's your answer (opens in new tab)
A telly insider reported that writers of The Crown were keen to have Lesley fill the shoes of Helena, who took over from Vanessa Kirby, to play the Queen's fiery younger sister.
"They wanted a star who could tackle the difficult role of a royal entering one of the darkest periods of her life when the Windsors faced endless scandals and she was dogged by ill-health," the source told The Sun.
Confirming the wonderful news, Lesley wrote on Twitter, 'I could not be happier to be playing Princess Margaret.
'The baton is being passed on from two formidable actresses and I really don't want to let the side down.
'Furthermore, to play siblings with my dear friend Imelda Staunton will be nothing short of a complete joy.'
She also recently opened up about taking the reins on the iconic role, admitting she realises she's got some great standards to meet.
"It's daunting, definitely daunting. Vanessa has just won a Bafta and she's brilliant, and in a way you have the ghost of the real Margaret and the ghost of the actress who played her.
"You also have the fact everyone has an opinion about the woman and yet ultimately very few people knew what her private life was like and that's the sort of the joy of the job," the Ordinary Love star said at the Cheltenham Literature Festival.