BBC's The Capture season 2: what day is it on and the dark details you might have missed as the hit drama raises the stakes
The Capture season 2 has delved into the manipulation of supposedly concrete evidence like never before and it's seriously gripping...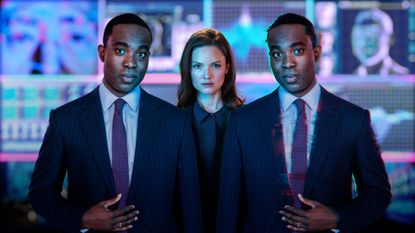 (Image credit: BBC/Heyday/Universal International Studios)
The Capture season 2 has proved to be every bit as suspicion-heavy and dramatic as the first as the idea of "Correction" is taken to a whole new level.
Anyone who loved the suspense and layers of suspicion of The Undeclared War and the investigative prowess of the team played by the brilliant Shetland season 7 cast - The Capture could be the perfect next watch for you. Taking the idea of fabricated evidence and running with it in disturbing directions, The Capture season 2 picks up six months after the first season's finale. Promoted but distrustful of everyone around her, DCI Rachel Carey is still on a mission to expose the manipulation of supposedly concrete evidence going on around her.
But what day is The Capture on BBC, how many episodes are there and what's happened so far in The Capture season 2? We reveal what you need to know as the gripping drama continues…
*Warning: Spoilers ahead!*
What day is The Capture on the BBC and how many episodes are there?
Whether you're a long-time fan of this unmissable BBC mystery thriller or looking to dive in at the deep end of the drama with The Capture season 2 there'll no doubt be many people asking themselves the ultimate question - when is The Capture on BBC? The answer is Sundays and Mondays at 9pm on BBC One, meaning that anyone who is also more than a little immersed in Adrian Dunbar's new Ridley ITV show on Sundays will have to make a difficult decision of which to watch live and which to catch-up on later.
All four episodes of The Capture season 2 that have aired so far are currently available on BBC iPlayer. But sadly for fans desperate to get to the bottom of the chilling mystery they'll just have to be patient as the episodes are only made available on iPlayer after being broadcast, rather than in one go like many other shows like The Secrets She Keeps season 2. As for how many episodes of The Capture there are, the second instalment is following the pattern established by the debut series and consists of six episodes.
Each episode of The Capture season 2 is an hour long, providing plenty of time and scope for the complexities of the gripping storyline to truly be explored. The season finale, enigmatically entitled 'The Flip', is set to air on Monday, September 12th. So remember to mark your calendars and get cosy with your snacks of choice to watch what promises to be a seriously suspenseful resolution to The Capture season 2…
Who is in the cast of The Capture?
The Capture cast list:
Holliday Grainger as DCI Rachel Carey
Cavan Clarke as DS Patrick Flynn
Ginny Holder as DI Nadia Latif
Ben Miles as Commander Danny Hart
Famke Janssen as Jessica Mallory
Ron Perlman as Frank Napier
Lia Williams as Gemma Garland
Daisy Waterstone as Abigail
Paapa Essiedu as Isaac Turner
Tessa Wong as DC Chloe Tan
Andy Nyman as Rowan Gill
Indira Varma as Khadija Khan
Joseph Arkley as Gregory Knox
The Capture season 2 cast is lead by returning lead star Holliday Grainger, known for her roles in everything from Showtime's historical show, The Borgias, to BBC's Strike adaptation. She plays DCI Rachel Carey and has previously teased to RadioTimes.com and other press that it's probably a very good move indeed that her character went to self defence classes!
"For her it starts with a murder and gradually, it just gets deeper and deeper," she said. "The more she unveils, the higher the stakes become for her and her own life. Thank God she went to those self defence classes".
The talented actor also went on to explain that the Rachel fans are introduced to in the second season has "had her eyes opened" to the corruption around her and it's left her "very lonely".
Holliday declared, "She was a purist. She completely believed in the police and the authorities, and she was slightly naïve. She had her eyes opened to the corruption she didn't believe was there and because of that, she's been left believing that her life is possibly in danger, and so she's paranoid and anxious and untrustful of everyone, and untrusted. It's a very lonely place to be in."
She is joined in The Capture cast by returning stars Cavan Clarke as DS Patrick Flynn, Ginny Holder as DI Nadia Latif, Ben Miles as Commander Danny Hart, Famke Janssen as Jessica Mallory, Ron Perlman as Frank Napier, Lia Williams as Gemma Garland and Daisy Waterstone as Rachel's sister Abigail.
There are also several new faces in action this season as Paapa Essiedu acts alongside them as persecuted politician Isaac Turner, Tessa Wong plays DC Chloe Tan, Andy Nyman plays fictional Home Secretary Rowan Gill, Joseph Arkley plays Gregory Knox and Indira Varma stars as Newsnight presenter Khadija Khan.
The Capture season 1 recap and what's happened so far in season 2?
Thriller lovers who can't get enough of Shetland season 7 will be accustomed to the idea of having one distinct plotline per series anchored by regular cast members. The Capture is no different and so season 1 of the show focused on a different plotline to season 2, following former British Army Lance Corporal Shaun Emery who was accused of kidnapping and murdering his barrister, Hannah Roberts. CCTV evidence appeared to support the case against him but it wasn't long before serious doubt was cast on how trustworthy this really was.
In the season finale Shaun is coerced by fictional CIA Section Chief Frank Napier into confessing to murdering Hannah after he is told that footage of him seeing his daughter will be digitally manipulated to suggest abuse. Horrified and trapped, Shaun did as he was instructed and pleaded guilty to manslaughter which protected the secret of Correction - a method of real-time image manipulation that involves the disruption of camera feeds and sophisticated technology.
Meanwhile, investigating DI Rachel Carey discovered the truth and after hiding an SD card containing real footage that proved Shaun's innocence boldly asked when she could begin working for Special Branch's DSU Garland and Commander Hart.
The Capture season 2 has taken this wider theme of digital manipulation to the next level and opened with Rachel now promoted to DCI, though hardly relishing the dead end department she's found herself in. Whilst she being watched and listened to at home, Rachel is revealed to have been covertly filming interactions with her superiors and is secretly hoping to reveal they framed Shaun.
Though the ongoing storyline with Shaun has remained a thread throughout The Capture season 2's first four episodes, a new investigation also comes to the fore when Security Minister Isaac Turner is implicated in a scandal on a huge scale.
In charge of the research committee that is tasked with determining whether Chinese AI technology Xanda can be used for facial recognition at UK borders, the decision is ultimately a resounding no, but then footage airs live on Newsnight seemingly showing Turner endorsing Xanda. For national security reasons Turner is unable to expose the manipulation of the footage despite knowing it's been faked.
Before long, chaos has ensued as the fallout of the interview continues and it seems hackers are determined to bring the politician down as he's embroiled in a faked paternity scandal too.
Meanwhile, assassins have gained access to a hospital and murdered DS Patrick Flynn who was injured as he attempted to protect Gregory Knox, another member of the research committee. And Rachel's insurance policy - the real footage that proved Shaun couldn't have kidnapped and murdered Hannah - has been found by Garland and Hart after she hid it in a photo frame at her home.
And things aren't getting any easier for Rachel in The Capture season 2 as her half-sister Abigail has only gone and started a podcast focusing on a movement that maintains Shaun Emery is innocent. Which, of course, he is, but if the DCI is to expose the truth she needs to keep her cards close to her chest.
At the end of The Capture season 2 episode 4, Rachel asks Gregory Knox to help her try and use Xanda to remove the false image planted over one of the assassins faces and he does so. The results take things to a whole new level as one of Flynn's assassins is revealed to be a Russian corporate security operative, Nikolai Mirsky.
And though he might not know exactly who is targeting him and why, Isaac is faced with a seriously disturbing anonymous phone call. Hearing his door buzz he goes out to meet whoever it is, only to be left speechless when an apparent Doppelgänger is seen standing outside...
The Capture season 2 airs on Sundays and Mondays at 9pm on BBC One and is available to catch-up on via BBC iPlayer.
Sign up to our free daily email for the latest royal and entertainment news, interesting opinion, expert advice on styling and beauty trends, and no-nonsense guides to the health and wellness questions you want answered.
Emma is a Royal Editor with seven years of experience working in digital publishing. Her specialist areas including literature, the British Royal Family and knowing all there is to know about the latest TV shows on the BBC, ITV, Channel 4 and every streaming service out there. When she's not writing about the next unmissable show to add to your to-watch list or delving into royal protocol, you can find Emma cooking and watching yet more crime dramas.