Susanna Reid hits out at Piers Morgan for going 'too far'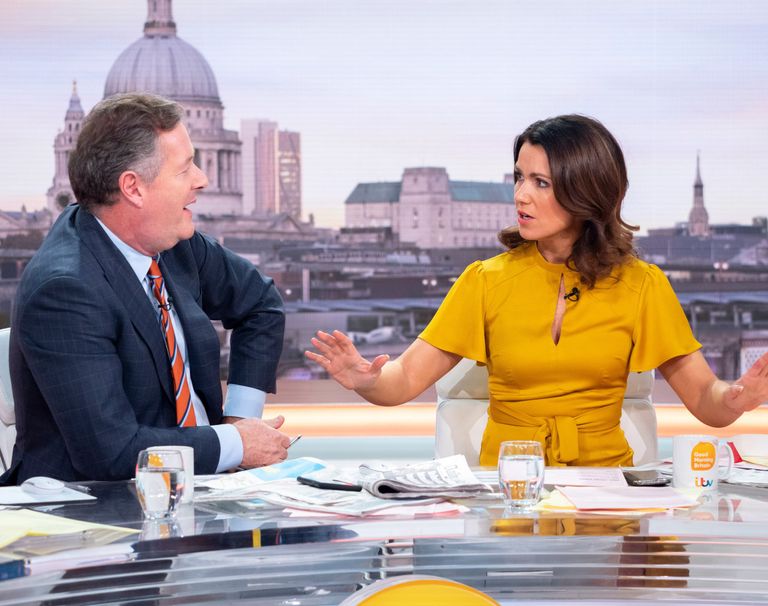 By Amy Hunt
It was a lively morning yet again on Wednesday's episode of Good Morning Britain, as the presenters faced off over a divisive issue.
Piers Morgan, Susanna Reid, and Charlotte Hawkins were discussing whether parents should kiss their children on the lips, after David Beckham was slammed for doing so with his 7-year-old daughter, Harper.
Making his opinion clear, Piers said, "Why would you kiss anybody apart from your sexual partner on the lips?"
While Susanna asked whether he really needed to include the word "sexual" in his argument, saying, "Do we have to make that qualification? Just partner."
Her response then prompted Piers to ask the invasive question, "Why, you have sex with your partner don't you?"
Clearly shocked by Piers' rather personal remark, Susanna hit back at Piers, saying that he had crossed the line asking her about such intimate details of her life.
She said, "There's always a line, and then there's too far. And then there's too far.", while Piers simply said back, "Why are you so squeamish about it? How do you think we all got here?"
But it appeared the disagreement was all taken in good spirits, as the pair, especially Susanna, were soon able to laugh it off. After all, it's nothing she doesn't normally have to deal with, with Piers sat next to her on a daily basis!
Earlier this year, Susanna spoke to the Radio Times about hers and Piers' fraught working relationship, admitting that his controversial comments mean she can't help but bite back.
She admitted, "Sometimes I open my mouth to ask a question and hear Piers's voice come out. You can't help but go into battle with him every morning."
And it's not the first time Piers has pryed into Susanna's new relationship with Crystal Palace chairman Steve Parish. Just a few days ago, he couldn't help but poke Susanna into sharing her views on marriage - prompting her to admit that she never wants to tie the knot.
She confessed, " I don't want to get married. I've never wanted to be married."