Shania Twain reveals what DOES impress her much: 'You are rock solid. I am inspired and I admire your courage'
Shania has shared a touching message of support for her LGBTQ+ fans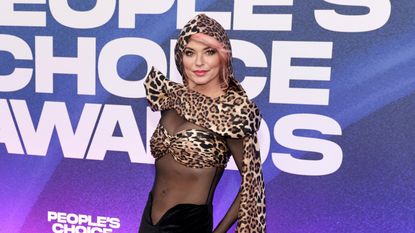 (Image credit: Todd Williamson/E! Entertainment/NBC via Getty Images)
Rocket scientists. People with a car. Brad Pitt. We are all already profoundly aware of what – or who – doesn't impress Shania Twain much.
While Shania might be hard to win over, she's truly reminded the world just why we've been in awe of her for the last three decades.
Not only has she shot up the charts around the world with her sixth studio album, Queen of Me, but she's forged a new path of body confidence for women over a certain age, posing nude for the first time at 57 and embracing her changing body.
But is there anything or anyone that can impress the queen of country pop?
As it turns out, yes! Shania has come out with messages of praise and gratitude for her LGBTQ+ fans in a new interview with GLAAD (opens in new tab).
The Man! I Feel Like a Woman icon has long been open about the ways in which she draws inspiration from the LGBTQ+ community, and she used her new interview to send a message of support and praise as some lawmakers across the United States draft bills to restrict drag performances.
Shania said, "Drag shows are so fun. I've been to a couple of drag shows, big ones in Las Vegas. Obviously RuPaul's Drag Race! First of all, it takes a lot of courage. I mean, fashion in itself takes courage. You're taking on a lot."
Happy Pride Month!! 💕 My music has always been about inclusivity. I believe in equality and in community. Period. The LGBTQ+ community has impacted my life in such a beautifully meaningful way and I'm deeply grateful for your love and support. I stand with you, forever 😘❤️ pic.twitter.com/DLzHchMoMKJune 13, 2022
See more
"The ability to put their own makeup on and do such a beautiful job. I've learned a lot from drag queens. I watched their tutorials because no, I've never seen such transformation in some of these talents that their faces go through... It's very impressive and their fashion, I don't know, I'm very inspired by it," she said.
Shania's love for – and from – the community has gone both ways since early on in her career, something which wasn't always expected from country music.
Speaking about how she wants her music to transcend labels and bring people together, she said, "We need more love in the world, not rejection and criticism and judgment."
Shania explained, "I've had so many friends in my life from early on that I would say … some openly, some not so openly struggled with their sexuality. ... I would even say I resented society for making anyone feel like an outsider."
This isn't the first time Shania has showed her love for the LGBTQ+ community. In her 2011 memoir, From This Moment On, she wrote that one of her iconic anthems came from the gay bars.
"Gay bars had the best dance music and the most impressive dressers," she wrote.
"Being inexperienced at applying makeup, I marveled at how artistic and glamorous some of the men were. They looked so gorgeous, with features that had been defined and exaggerated with blushes, liners, shadows and accessories. My fascination with this initial introduction to men transforming themselves into beautiful women likely sowed the seed of inspiration for a song I would write years later: 'Man! I Feel Like a Woman.'"
Closing her new GLAAD speech with a rousing message, Shania said, "I want to say that I love you, LGBTQ community. You are rock solid. I am inspired and I admire your courage to get out there and be yourself to be beautiful."
Jack Slater is not the Last Action Hero, but that's what comes up first when you Google him. Preferring a much more sedentary life, Jack gets his thrills by covering news, entertainment, celebrity, film and culture for woman&home, and other digital publications.
Having written for various print and online publications—ranging from national syndicates to niche magazines—Jack has written about nearly everything there is to write about, covering LGBTQ+ news, celebrity features, TV and film scoops, reviewing the latest theatre shows lighting up London's West End and the most pressing of SEO based stories.