This is the most popular place for Brits to have sex outside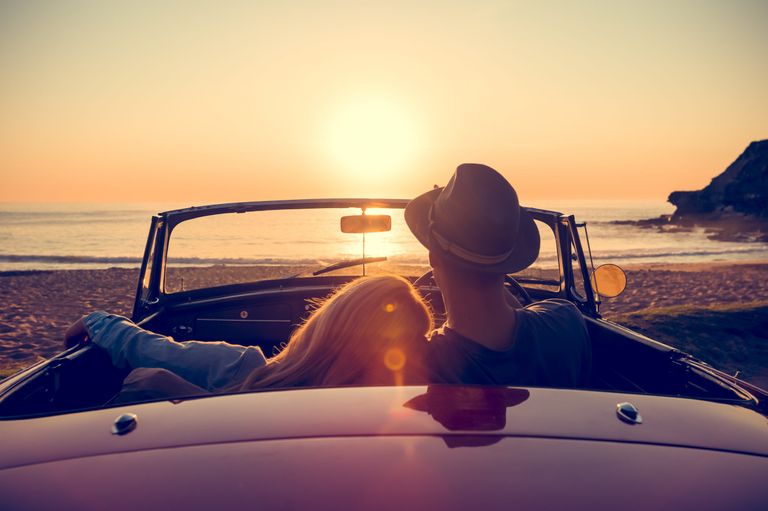 (Image credit: Getty Images)
Some couples will risk everything when it comes to seeking thrills.
So, you can forget curling up in bed with one of the best vibrators or dressing up in a French Maid's outfit. Those fantasies are far too tame. Instead, while it may not be fully legal in this country to have sex outside, that doesn't stop Brits up and down the UK heading to public areas for some adult excitement. Despite the weather!
A nationwide survey by End of Tenancy Londonfound that the car is the most popular place for Brits to have sex outside. This was followed by being next to the window in a hotel room, and then public toilets! And, the region you are from has a big influence on where you like to have your al fresco fun. Those living in the North East favour a hot tub or swimming pool, while residents in the South West prefer a balcony. And raunchy couples inYorkshire and The Humber prefer a park or wooded area.
A reason why there areover 10,290 online searches each month for "sex outside" could bebecause it's still a taboo. "It's always an exciting feeling that we've broken a taboo and having sex out of doors is no exception," says relationship expert Dr Becky Spelman working with sexual wellness brand We-Vibe. "Outdoors, we can hear birds sing, sense the wind against our skin, and feel in touch with nature. This means we are likely to feel particularly attuned to our senses and may experience a heightened sense of physical sensation."
Here's everything you need to know about having sex outside...
The 10 most popular places Brits HAVE had sex outside:
1Car55%
2Hotel room – by the window!52%
3Public toilets44%
4A park or wooded area41%
5Balcony41%
6Tent33%
7Hot tub or swimming pool30%
8Club26%
9Outdoor shower/bath22%
10Empty office or classroom22%
The 10 most popular places Brits WANT to have sex outside:
1Balcony56%
2Beach48%
3Hot tub or swimming pool44%
4Hotel room – by the window!36%
5Outdoor shower/bath36%
6 Rooftop32%
7A park or wooded area32%
8Changing room32%
9Car28%
10Tent28%
Is having sex in public legal?
While it might seem fun, you have to be careful if you're planning on getting involved in any type of sexual activity outdoors.
"The legal status of outdoors sex is complicated," says Dr Spelman. "Depending on the specifics of the situation, lovers could be prosecuted under the Offences Against Public Decency Act of 1986. This bans people from committing an act of a lewd character in a public place where they might be seen by more than two people. Or, the Sexual Offences Act of 2003. This bans people from displaying their genitals with the intention of causing alarm or distress to another person. So, while it's not strictly speaking illegal, itisimportant to be careful and considerate of others when choosing how and when to enjoy sex outdoors."
So, if in doubt, make sure you choosesomewhere no one isgoingto walk past. "The reality is that while there's nothing per se wrong with having sex outdoors, you shouldn't want your love-making to be a cause of upset for someone else," says Dr Spelman. "And, you don't want to put someone in a difficult situation that is not of their own making. A little consideration for others will go a long way."
The best positions when having sex outside
Not sure of the best position to try when having sex outside?"It really depends on the environment," says Dr Spelman. "If you're in the forest and it's very muddy, for example, you'll probably be more comfortable standing up. You could possibly lean against a tree for support. But, if the weather has been dry, you should be able to lie on the grass. Then you could be as comfortable as you would be at home in your own house."
And thinking about your clothing could also help."A skirt for the woman and possibly loose trousers for the man is a good idea," says Dr Spelman. "Both help easy access and a quick cover-up if you need to make yourselves respectable in a rush!"
A blanket and bug spray could also be handy accessories to bring."Rolling on to a bed of nettles would not make for a very pleasant or romantic finale to your love-making," says Dr Spelman. "Bring a tartan rug and it will also look convincingly like a picnic rug if you need to hastily rearrange yourselves as passers-by approach. And somebug repellent would also be a good idea. "But be careful to avoid spraying it on or near your genitals," says Dr Spelman. "It's likely to sting. A citronella candle will keep biting insects away while not posing you any risks."